Sanctuary Of Truth Temple (Based On Traditional Buddhist And Hindu Intentions)
Today we are going to talk about a temple called Sanctuary of Truth. This temple is located in Pattaya, Chonburi, Thailand. This is a wooden temple filled with sculptures based on traditional Buddhist and Hindu intentions. The top of the Sanctuary of Truth is 105 meters high, and the building covers more than two rows. So let's find out more about Sanctuary of Truth.
Sanctuary of Truth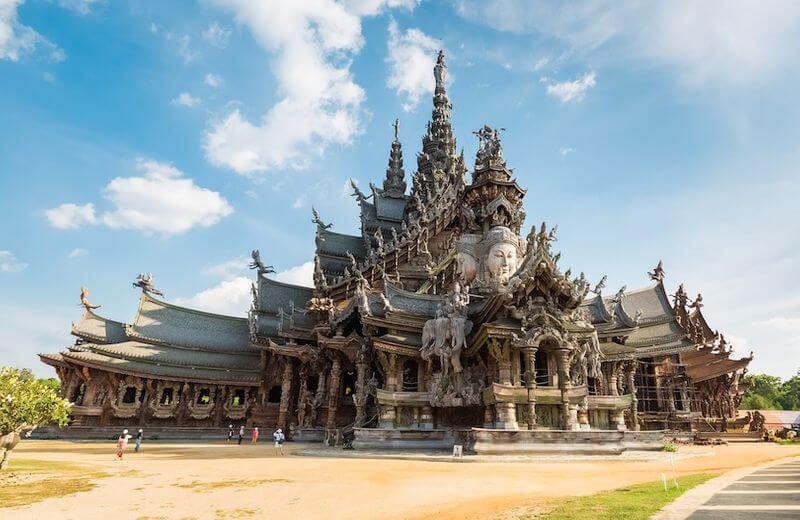 Sanctuary of Truth Temple has been given contemporary visionary art based on religious themes. The project of this temple was started in 1981 as an idea by Thai businessman Lek Viriyaphan, and is scheduled to be completed in 2050. The main idea of the Sanctuary of Truth Temple is to show that all religions lead to the same truth.
This temple shows the importance of decorative religious elements, as the Sanctuary of Truth contributes to the stability of the world by avoiding evil intentions and promoting good works. The main style of the Sanctuary of Truth Temple is based on the Thai architecture of the Ayutthaya period, which is decorated with Hindu-Buddhist hand-carved wooden sculptures drawn from various artistic traditions, including Dravidian, Chinese, Mon Dvaravati, Angkorean, Srivijayan, and Thai.
The temple has four gopura, consisting of Buddhist and Hindu religions and the myths of Cambodia, China, India and Thailand, respectively. The architecture and atmosphere of the temple of Sanctuary of Truth are very beautiful. Every day a large number of woodcarvers work on this temple and make various figures. Sanctuary of Truth is a peaceful place on the sea and close to most Pattaya hotels so with many photo opportunities, make for a memorable trip for the tourist. The numerous carvings of this temple represent scenes of the ancient Indian epics Mahabharata and Ramayana. The Sanctuary of Truth Temple is open daily from 8am to 5pm.