Railay Beach (Krabi) Thailand Things To Do
Railay Beach is also known as a Rai Leh and the Railay Beach Thailand is one of the our favorite destinations in the country and also perhaps the world as well as Railay Beach is the large peninsula between city of Krabi and also the Ao Nang in the Thailand country. On the Railay Beach there are many things to as well as also the pristine beaches or the soaring cliffs and also the laid back vibe are there.
Railay Beach (Krabi)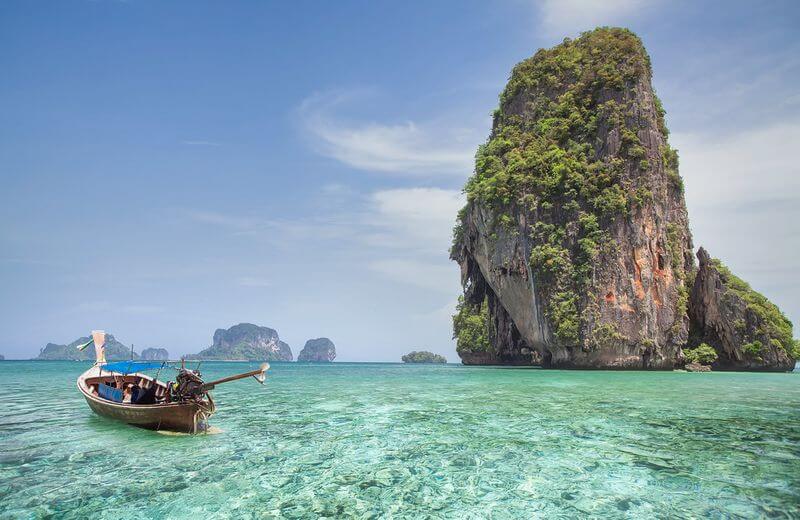 When we need to reach at the Railay Beach then only we have one option and that is boat so that beach is only accessible by the boat due to high limestone cliffs cutting off mainland access as well as that area is also famous and popular for beautiful beaches and also quiet relaxing atmosphere. Railay Beach contains many adventure things to do and because of that we never want to live this place.
Railay Beach help us to turn our holiday into the most amazing holiday ever as well as on the Railay Beach many things to do but here we are describing best once for you so the first one is Go Rock Climbing and the rock climbing is one of the most famous sport and that beach offers many limestone cliffs for climbing or because of the Rock Climbing we can get opportunity for see stunning views of the ocean as well as that is in itself heart-rending experience.
The second most important activity is Indulge in Snorkeling because when we visit beach and we not do any underwater activity, it is possible? So, Snorkeling is best activity of the Railay beach, Thailand and one other best activity is Hike to Viewpoint means when you are not afraid with height then that beach offers you tough hike and on that we can go at highest point of the beach and we can see breathtaking views as well as Scuba diving is also there.
The Diamond Cave is one of the main attractions of the Railay Beach as well as we can reach at the cave through a 5 minute walk as well as we can also see sunset at Railay Beach and treat our senses with the orange & gold hues of the sunset and we need to keep our camera for the magical moments. Railay beach is best place for visit for create beautiful memories.
We can take a long tail boat for the Four Islands Tour means for the 4 island tour we can take boat from the Railay is a classic trip as well as that is a must do activity from Railay Beach and we can go at Kayaking if it is possible then and the Kayaking is on Railay West Beach from resorts or the right side in front of the Walking Street. When we are at the Railay Beach then we need to find best hotels and also resorts so the list of the resort is given so first one is Rayavadee Resort second is Railay Bay Resort & Spa and other one is Railay Great View Resort as well as the list of restaurant is also there so first one is The Grotto and also The last Bar, Kohinoor Indian Restaurant.
Read More on Railay Beach
1. Things To Do at Railay Beach
Today we are going to go to Railay Beach and collect information about how a tourist does activity. So let's talk a little bit about Things to Do at Railay Beach.
Railay Beach offers nice, decorative, picturesque and natural surroundings for tourists to enjoy. As the tourist ventures out to this beach you get the benefit of turquoise waters, exotic islands, white sand beaches and magnificent and colorful marine life.
For tourists, Railay Beach allows them to enjoy snorkeling. On this beach the tourist can get a ride in a long tailed boat. Thai massage is directly available on the beach for tourists in Railay Beach. Activities like diamond cave, rock climbing, sea kayaking, sunset view point, boat riding; parasailing, jet skiing, banana ride, motorboat rides, and paragliding are also available for the tourist to do on this beach.
2. Best Time To Visit Railay Beach
Here we have to collect information about Best Time to Visit Railay Beach. This is to collect information on where the visitor can visit Railay beach. So let us know a little more about Railay Beach.
The Best Time for a Tourist to Visit Railay Beach Is From Late

October to March.
Winter Season
This is the best season for a tourist to visit Railay Beach. The best time for a tourist to visit this beach during this period is from November to March. The weather on Railay Beach is very nice during this season. The average winter temperature on Railay Beach is 28 degrees Celsius. Cold winds blow during this time making it comfortable for tourists to visit.
Summer Season
The hottest time on Railay Beach during the summer season is the menu from April. Temperatures on this beach range from 27 C to 36 C during this season. Despite the summer season, there are frequent short heavy thunderstorms during this time. Due to this rain, tourists are given a welcome relief from high temperature and humidity during the summer period.
Monsoon Season
The monsoon season on Railay Beach lasts from June to October. Raincoats and umbrellas are mandatory for people on this beach during the monsoons during the wettest months of September and October. This season makes it dangerous for tourists to visit Railay Beach. During the monsoon season you can expect long intervals of sunlight between the two fountains. There is very little activity available for tourists in Railay Beach during this season.
3. How to Reach Railay Beach
Here we are going to talk about How to Reach Railay Beach. So let's gather information about how a tourist can visit Railay Beach.
By Air
The nearest airport to reach Railay Beach is Krabi International Airport. The airport is 15 kilometers from the city center of Krabi. At this airport, taxis are always waiting to visit the tourist on Railay Beach through which the tourist can easily reach a beach.
By Boat
There is a quick longtail boat ride from Ao Nang Beach to get tourists to Railay Beach. Boats take tourists all day to reach the beach and the beautiful boat ride from Ao Nang to Railay Beach takes about 15 minutes. During the low season when the weather is rough the tourist needs to take a boat from Ao Na Mao or Krabi. It takes about 45 minutes to reach this beach from Krabi.
4. Top Places to Visit Around Railay Beach
Krabi Sunset Cruises
Railay Pub Crawl
Phra Nang Cave Shrine
Sa Phra Nang
Ton Sai
Railay East
Phra Nang Nai Shrine
Phra Nang Beach
Viewpoint
Railay West