A Guide to Great Sand Dunes National Park (Colorado)
The Great Sand Dunes National Park and Preserve is located in southern Colorado. It's famous for its massive dunes, such as the towering Star Dune, as well as the seasonal Medano Creek and beach formed at the base of the dunes. The backcountry Medano Pass Primitive Road winds its way through a canyon toward the Sangre de Cristo mountains. Trails lead to forests, wetlands, and alpine lakes, such as Medano Lake, which is home to trout and other tundra wildlife.
The Rio Grande's sand deposits sculpted the tallest dunes in North America, which rise up to 750 feet. This park is one of the most biologically and geologically diverse in the United States, with surrounding grasslands, shrublands, wetlands, alpine lakes, high mountains, and ancient forests.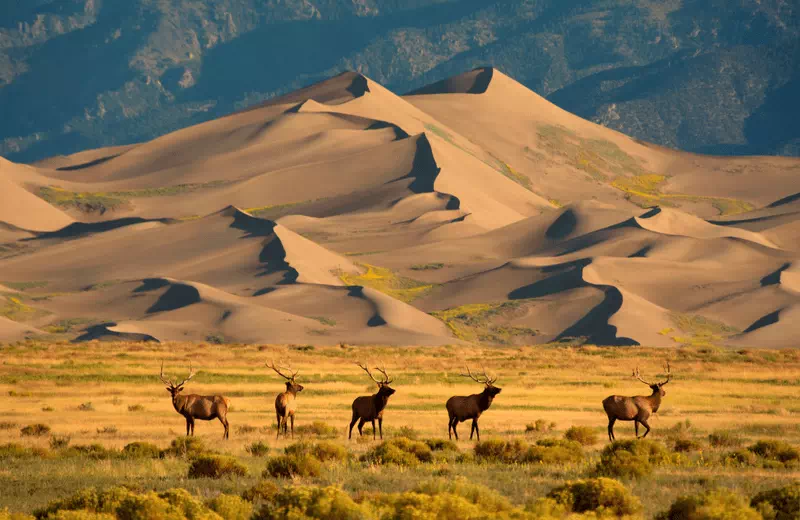 Visitors typically arrive in the spring or fall because sand surfaces can reach temperatures of 150 degrees Fahrenheit on a summer afternoon or 20 degrees below zero on a winter night.
Wading, skimboarding, tubing, and sand sculpting are among the beach activities available at Medano Creek in the spring. Aside from the popular sandboarding and sledding, there are numerous opportunities for hiking, backpacking, photography, astronomy, camping, and horseback riding.
The park's elevation (8,200 feet) and rural location make it a favourite among dark-sky enthusiasts, and it even hosts special astronomy programmes on many evenings from May to September. The Junior Ranger programme offers a variety of activities for children aged 3 to 12, and they earn a badge after completing the educational and entertaining tasks.
Is it worthwhile to visit Great Sand Dunes National Park?
It's nearly 4 hours from Denver, but it's well worth the trip. These dunes in the middle of the desert, mountains of sand against the backdrop of mountains, are breathtaking. Hiking up them is a workout, but it is well worth the effort.
How much time will you need to spend in Great Sand Dunes National Park?
You can walk on the dunes and go sandboarding or sledding in just a few hours. This is more than enough time for many people. I recommend spending at least one full day here for the best experience. Arrive early in the morning and hike to High Dune (or a smaller dune) when temperatures are low.
Is there sand dunes in Colorado?
At the foot of Colorado's Sangre De Cristo Mountains, one small step into Great Sand Dunes National Park and Preserve may evoke memories of one giant leap for humanity.
How should I dress for a visit to the Great Sand Dunes National Park?
Year round, bring a hat, gloves, wool socks, and a warm jacket for the night because temperatures can drop. Pack a sun hat, sun gloves, sunglasses, a long-sleeve shirt with UPF sun protection, and a bandana or lightweight face and neck cover, such as a Buff or Discrete neck buff, for sun and sand protection.
What is the world's tallest sand dune?
The Duna's Federico Kirbus is the world's tallest dune, reaching a height of 1234 metres (2845 above sea level). Federico B., an Argentine journalist and researcher, was the inspiration for its name.
Which desert has the most sand dunes?
The Simpson Desert, at over 65,000 square miles, is not only the world's largest sand dune desert, but it also has the world's longest parallel sand dunes.
Best Time to Visit Great Sand Dunes National Park
The best time to visit Great Sand Dunes National Park is during the spring season, which begins in May. This is the time of year when the snow begins to melt and the weather is pleasant for everyone. It's a good time to go to Medano Creek.
Things to Do in Great Sand Dunes National Park
Experience the Magnificence of the World's Highest Dune
See the Milky Way
Go for a Drive
Go to a Ranger Program
Sleep on the Sand
Go on a Sunset Hike with a Ranger
See a Waterfall