Edisto Beach The Perfect Place to Unwind and Reconnect with Nature
Nestled on the enchanting shores of South Carolina, Edisto Beach stands as a hidden gem along the Atlantic coastline. With its pristine beaches, lush natural surroundings, and a tranquil atmosphere, it's a destination that beckons those seeking a genuine coastal escape.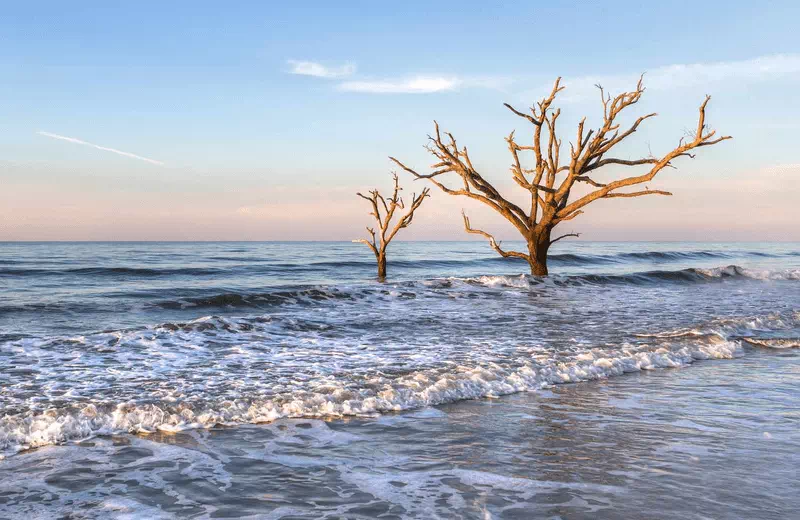 Natural Beauty
Edisto Beach's allure lies in its untouched natural beauty. The beach boasts miles of soft, sandy shores, perfect for leisurely strolls, sunbathing, or collecting seashells. The gentle waves of the Atlantic Ocean offer an inviting playground for swimmers, surfers, and water sports enthusiasts. For those who prefer a more serene experience, the calm waters of the Edisto River are ideal for kayaking and paddleboarding.
Outdoor Adventures
Beyond the beach, Edisto offers a wealth of outdoor activities. The Edisto Beach State Park is a haven for nature lovers, featuring hiking trails that wind through maritime forests, tidal creeks, and marshes teeming with wildlife. Birdwatchers will delight in spotting herons, egrets, and other coastal birds.
Cultural Charms
While Edisto Beach is celebrated for its natural splendor, it also boasts a rich cultural heritage. The Edisto Island Historic Preservation Society maintains the island's historical sites, including plantations and churches, offering a glimpse into the area's past. Visitors can explore the roots of Gullah culture, a unique African-American culture with deep ties to the region, through cultural events and tours.
Local Cuisine
No visit to Edisto Beach would be complete without savoring the local cuisine. Seafood takes center stage here, with restaurants serving up fresh catches of shrimp, oysters, and crab. Whether you're dining in a charming waterfront eatery or enjoying a picnic on the beach, the flavors of Edisto will tantalize your taste buds.
Relaxation and Rejuvenation
For those in search of relaxation, Edisto Beach delivers. The island's unhurried pace, lack of high-rise resorts, and absence of crowded attractions create an atmosphere of tranquility. It's a place where you can unwind, listen to the soothing sounds of the ocean, and let the stress of daily life melt away.
Community Spirit
Edisto Beach has a tight-knit community that welcomes visitors with open arms. The warmth and friendliness of the locals make it easy to feel like a part of the island's extended family during your stay.
In conclusion
Edisto Beach is a coastal paradise that beckons travelers seeking a retreat from the hustle and bustle of modern life. With its natural beauty, outdoor adventures, cultural charms, and warm hospitality, it's a destination that leaves a lasting impression and draws visitors back year after year. Whether you're seeking adventure, relaxation, or a bit of both, Edisto Beach promises an unforgettable experience on the South Carolina coast.