East Beach In Santa Barbara (The Ultimate California Vacation Destination)
Santa Barbara's East Beach, in California, is often the first beach visitors see as they approach the city limits. Stearn's Wharf separates East Beach from West Beach, which is close to the center of Santa Barbara.
Santa Barbara's East Beach is the ideal location for a day of sunbathing. Its wide, sandy shoreline is bordered by a park with tall palm trees, making it a popular spot for both on and off-beach activities.
East Beach has restaurants, volleyball courts, playgrounds, lifeguard stations, and a bike path that is safe and winding for all ages. Tourists flock to East Beach because it is located so close to some of Santa Barbara's most opulent hotels.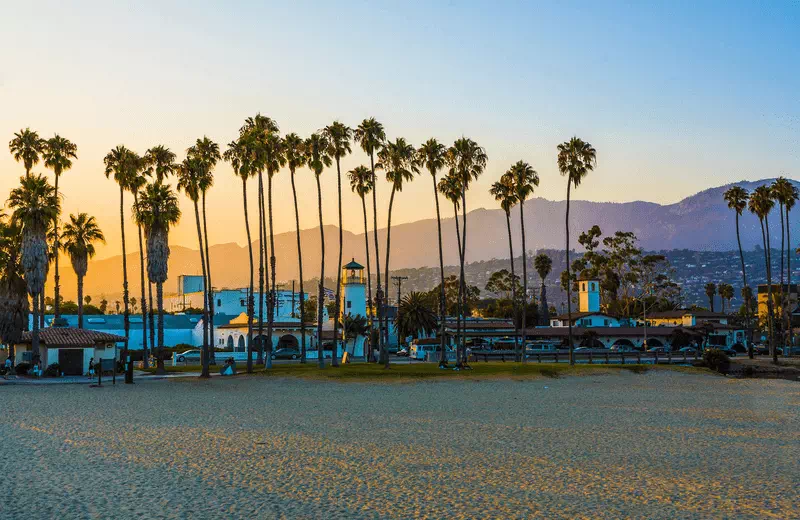 There's a restaurant, playground, volleyball courts, and a pool for bikes and rollerblades, as well as a full beach house and restaurant. Special events like Saturday afternoon drumming, Sunday afternoon art shows, or an occasional soccer game are also popular at this location.
Santa Barbara has four major beaches: Arroyo Burro, Leadbetter, West, and East. While Leadbetter has the harbor, Arroyo Burro is ideal for travelers with dogs, and West Beach hosts the Fourth of July fireworks, East Beach is the best stretch for catching some rays without being surrounded by crowds.
East Beach has everything to enjoy and seemingly nothing to worry about, from a park with watersport rentals to the quiet, peaceful coast. The gentle waves at this outdoor destination provide a pleasant swimming environment for the entire family.
East Beach is less crowded and less touristy than West Beach. There is a lovely beach with more than a dozen volleyball courts and picnic tables. In the East Beach area, there are a few large resorts that cater specifically to families, as well as a few budget-friendly hotel options.
Best Time to Visit East Beach, Santa Barbara
The months of March to May, or September to November, are ideal for a visit to Santa Barbara. Temperatures are mild year-round, hovering in the 60s and 70s, but traveling in early spring or fall ensures you won't have to fight crowds and rates will be lower.