Cooper's Beach in Southampton New York
Today we are going to talk about Cooper's beach. This beach is the best beach in southampton ny. It has all the facilities for eating and drinking on the beach. This beach has clear water, sandy bottom and you will not see seaweed. This beach is huge and really nice. So come let's talk in some detail.
Coopers Beach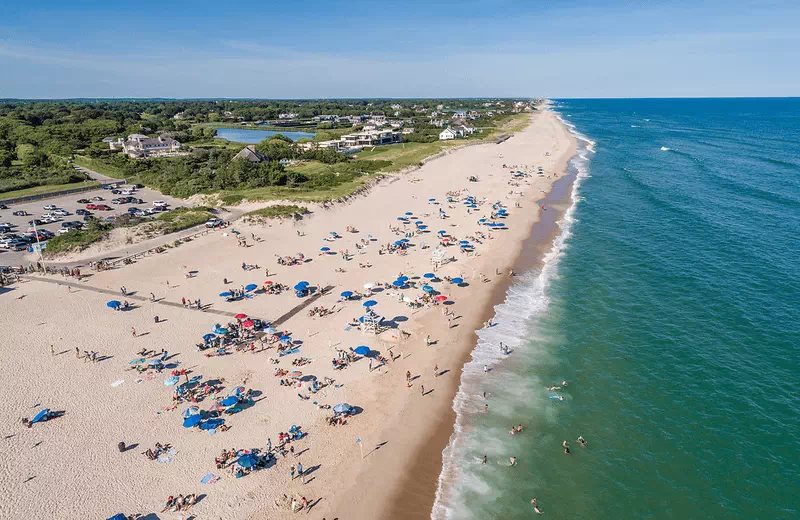 If you are planning to roam all day, then Ae Beach will be a great place for you. On this beach the water is very clear and the sand is very soft and clear. In the meantime you can rent beach chairs and umbrellas.
According to the Dr. Beach, Cooper's Beach in Southampton is rated among the top 10 beaches in America. In the meantime, you can enjoy the historic mansions and the white sandy beaches with the visitor nature.
Meanwhile, you will get parking facility but it is not free which you will have to pay few amount And with this you will get full access to bathroom, umbrella and chair. And maybe it's here that you can, alternatively, come for the free parking at the end of the afternoon and enjoy the serenity of Cooper's Beach as you watch the sunset.
This beach extends for about 500 feet along the coastline of the Atlantic Ocean. This Beach offers to enjoy the sunshine between May and September.
Cooper's Beach Southampton Address: 268 Meadow Ln, Southampton, NY 11968, United States.
Read More on Cooper's Beach
1. Things To Do at Cooper's Beach
You can surf at Coopers Beach. If you want to enjoy the beaches, then you should visit during the winter months because on this beach you will hear the amazing scenery and endless waves and the sound of sea gulls which will give you a feel of this nature.
Cooper's Beach is approximately 2 miles (3.5 kilometers) from Southampton. And one thing, on this beach, you can also rent bikes and cycles, on the beach cycling is also a great option.
You can also come for a family picnic on the clean sandy beach. And a great place for picnic. And don't forget to bring along a homemade breakfast and a homemade sandwich. Along with this, there are also alternatively good restaurants here, you can enjoy delicious food or breakfast here.
Amenities:
Food and drink
Parking
Restrooms
Showers
2. Best Time To Visit Cooper's Beach
Here we have to collect information about Best Time to Visit Cooper's Beach. This is to collect information on where the visitor can visit the beach. So let us know a little more about this beach.
The Best Time for a Tourist to Visit Cooper's Beach Is From Late

May to September.
Winter Season
On this cold season lasts for 3 months from December to March. January is the coldest month of the year in Southampton with average lows of 27°F and highs of 39°F. The average daily high temperature remains below 47 degrees Fahrenheit.
Summer Season
The mid-year months of June and August have very comfortable weather with high temperatures. June - August is the busiest season for tourism in Southampton. Hence, accommodation and other accommodation may cost more than usual.
Monsoon Season
There is a significant amount of rain or snowfall between September and November. Tourism is slowest due to the months of this season. So the price of hotels can be cheaper.
3. Top Places to Visit Around Cooper's Beach
The Thomas Halsey Homestead
Southampton Arts Center
Hildreth's
Southampton History Museum
Parrish Art Museum
Agawam Park
Flying Point Beach
Ponquogue Beach
Meschutt Beach County Park
Mecox Beach
Sagg Main Beach
New Suffolk Beach