Bondi Beach The Ultimate Escape for Beach Lovers, Foodies, and Adventure Seekers
Welcome to Bondi Beach, the ultimate paradise for beach lovers, food enthusiasts, and adventure seekers alike. Nestled on the outskirts of Sydney, Australia, this iconic beach destination offers a breathtaking blend of natural beauty, culinary delights, and adrenaline-pumping activities that will leave you wanting more.
With its pristine white sands and crystal-clear waters, Bondi Beach beckons sun-worshippers from around the globe. Whether you're looking to catch a wave, soak up the sun, or simply stroll along the shoreline, this coastal gem is the perfect place to unwind and soak in the laid-back atmosphere.
But Bondi Beach isn't just about the beach. It's a food lover's paradise, with a vibrant dining scene that combines fresh local ingredients with international flair. From trendy cafes and bustling markets to fine dining establishments, Bondi Beach serves up a culinary experience that will satisfy even the most discerning palates.
For those seeking adventure, Bondi Beach has it all. Whether you want to test your surfing skills, embark on a coastal hike, or try your hand at cliff jumping, there's an adrenaline-pumping activity for everyone.
So, pack your sunscreen, bring your appetite, and get ready to experience the ultimate escape at Bondi Beach. Get ready for unforgettable moments, mouthwatering cuisine, and endless opportunities for fun and adventure. Bondi Beach awaits you.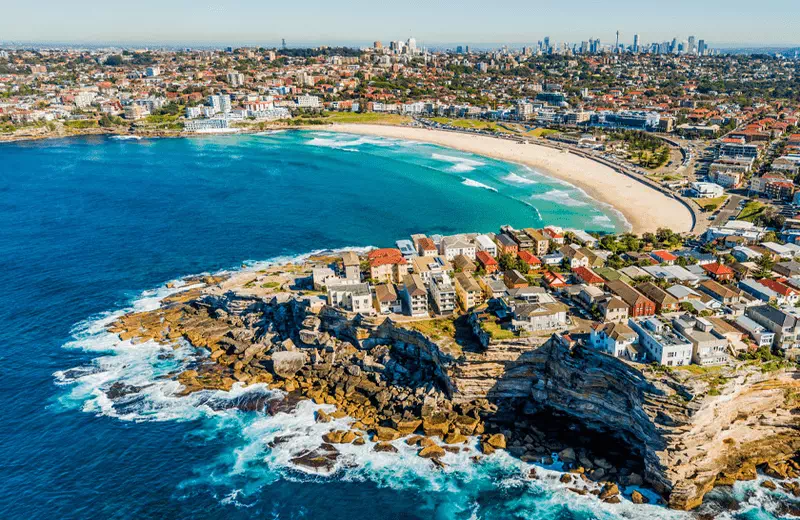 Beach activities at Bondi
Bondi Beach is renowned for its pristine white sands and crystal-clear waters, making it the perfect playground for beach lovers. Whether you're a seasoned surfer or a beginner looking to catch your first wave, Bondi has something for everyone. The beach offers excellent surf conditions, with waves that cater to all skill levels.
If you're new to surfing, you can even sign up for lessons with one of the local surf schools.
If surfing isn't your thing, you can still enjoy the beach by simply lounging on the sand and soaking up the sun. Bondi Beach has plenty of space for sunbathing, so you can find a spot to relax and unwind. Take a dip in the refreshing ocean, or simply stroll along the shoreline and feel the sand between your toes.
For those looking to stay active, Bondi Beach offers a range of other beach activities. You can join a game of beach volleyball, try your hand at stand-up paddleboarding, or even take a yoga class on the sand. The possibilities are endless at Bondi Beach.
Exploring the Bondi food scene
Bondi Beach isn't just a haven for beach lovers; it's also a food lover's paradise. The culinary scene here is vibrant and diverse, with a wide range of dining options to suit every taste and budget.
Start your day with a visit to one of the trendy cafes that line the streets of Bondi. Enjoy a delicious brunch accompanied by a perfectly brewed cup of coffee, and soak in the relaxed atmosphere of this beachside suburb. Bondi also boasts a bustling weekend market, where you can sample a variety of local and international delights. From fresh produce to gourmet street food, the market has it all.
For those seeking a more upscale dining experience, Bondi Beach offers a number of fine dining establishments. Indulge in a seafood feast at one of the waterfront restaurants, or savor the flavors of international cuisine at one of the many fusion restaurants in the area. No matter what your culinary preferences, Bondi Beach has something to satisfy every palate.
Outdoor adventures near Bondi
If you're an adventure seeker, Bondi Beach has plenty to offer beyond its sandy shores. Just a short distance away, you'll find a range of outdoor activities that will get your adrenaline pumping.
One of the most popular outdoor adventures near Bondi is the Bondi to Coogee Coastal Walk. This scenic coastal trail stretches for six kilometers and offers breathtaking views of the coastline. Along the way, you'll pass by stunning beaches, dramatic cliffs, and picturesque rock pools. Take your time to explore the various lookout points and enjoy the beauty of the Australian coastline.
For those looking for a more exhilarating experience, why not try cliff jumping at North Bondi? This adrenaline-pumping activity involves jumping off the cliffs into the ocean below. It's not for the faint of heart, but it's guaranteed to give you an unforgettable rush of adrenaline.
If you're a nature lover, don't miss the opportunity to visit the nearby Royal National Park. This stunning national park is home to a range of hiking trails, waterfalls, and secluded beaches. Spend a day exploring the park, and immerse yourself in the natural beauty of the Australian wilderness.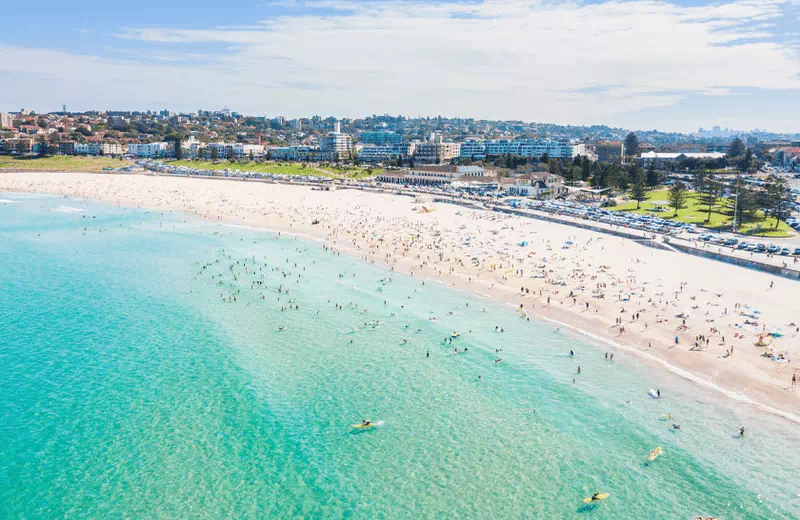 Bondi Beach accommodations
When it comes to accommodations, Bondi Beach offers a wide range of options to suit every budget and preference. Whether you're looking for a luxury beachfront hotel or a cozy guesthouse, you'll find plenty of choices in the area.
For those seeking a luxurious beachfront experience, there are several high-end hotels and resorts located right on the beach. Wake up to the sound of crashing waves, and enjoy stunning ocean views from your room. These hotels offer a range of amenities, including swimming pools, spa facilities, and on-site restaurants.
If you're traveling on a budget, Bondi Beach also has a number of affordable accommodations. From backpacker hostels to budget-friendly guesthouses, you'll find plenty of options that won't break the bank. These accommodations may not offer the same level of luxury as the beachfront hotels, but they provide a comfortable and convenient base for exploring Bondi Beach and its surroundings.
Local attractions near Bondi
While Bondi Beach is undoubtedly the main attraction in the area, there are plenty of other local attractions worth exploring during your visit.
One such attraction is the Bondi Icebergs Club, located just a short walk from the beach. This iconic ocean pool has been a fixture of Bondi Beach since 1929 and offers swimmers a unique experience. Take a dip in the saltwater pool, and enjoy panoramic views of the beach and the surrounding coastline.
If you're interested in art and culture, don't miss the Bondi Pavilion. This historic building is a hub for arts and community events, and regularly hosts exhibitions, performances, and workshops. Check the schedule during your visit, and immerse yourself in the vibrant cultural scene of Bondi Beach.
For a taste of local history, pay a visit to the Bondi Heritage Trail. This self-guided walking tour takes you through the streets of Bondi and provides insight into the area's rich history and heritage. Learn about the Aboriginal heritage, the early European settlers, and the development of Bondi Beach into the iconic destination it is today.
Bondi Beach safety tips
While Bondi Beach is a beautiful and inviting destination, it's important to keep safety in mind during your visit. Here are a few tips to ensure you have a safe and enjoyable time at Bondi Beach:
Swim between the flags: Bondi Beach is patrolled by lifeguards, who mark safe swimming areas with red and yellow flags. Always swim between the flags, as they indicate the areas that are free from rip currents and other hazards.
Stay hydrated: The Australian sun can be unforgiving, so it's important to stay hydrated. Drink plenty of water throughout the day, and avoid spending too much time in direct sunlight during the hottest hours.
Wear sunscreen: Protect your skin from the sun's harmful rays by applying sunscreen regularly. Use a broad-spectrum sunscreen with a high SPF, and reapply it every couple of hours, especially if you're swimming or sweating.
Be aware of surf conditions: Before entering the water, take a moment to assess the surf conditions. If you're not an experienced surfer, it's best to avoid the water when there are large waves or strong currents.
Respect the environment: Bondi Beach is a pristine natural environment, so it's important to respect and preserve it. Avoid leaving any trash behind, and follow any signage or guidelines regarding the protection of the local flora and fauna.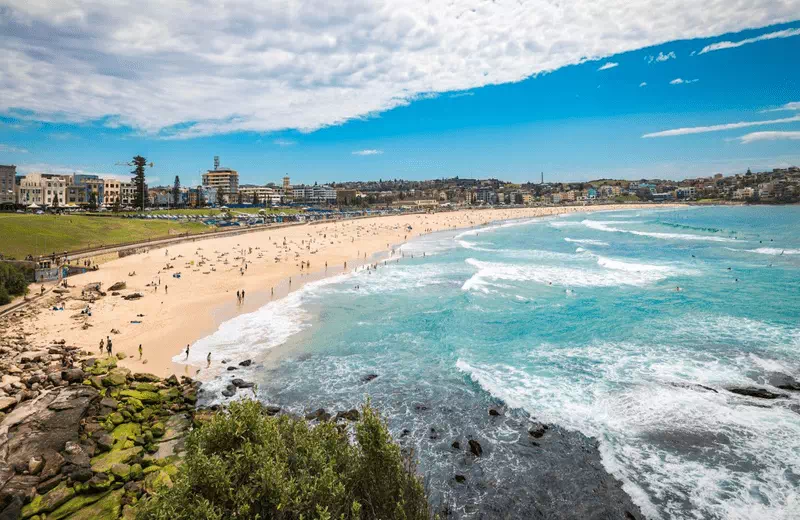 Best time to visit Bondi Beach
Bondi Beach is a year-round destination, but the best time to visit depends on your preferences and priorities.
If you're a surfer, the best time to visit Bondi Beach is during the summer months (December to February). This is when the waves are at their best, and the beach is buzzing with energy. However, keep in mind that this is also the peak tourist season, so the beach may be crowded.
If you prefer a quieter and more relaxed atmosphere, consider visiting during the shoulder seasons of spring (September to November) or autumn (March to May). The weather is still pleasant during these months, and the crowds are smaller.
If you're interested in whale watching, plan your visit between May and November. During this time, migrating whales can often be spotted from the coastal cliffs near Bondi Beach.
How to get to Bondi Beach
Getting to Bondi Beach is easy, thanks to its proximity to Sydney's city center. Here are a few transportation options for reaching this iconic beach destination:
Public transportation: Bondi Beach is well-served by public buses, which run regularly from various locations in Sydney. Catch a bus from Circular Quay, Central Station, or Bondi Junction, and enjoy a scenic ride to the beach.
Car: If you prefer to drive, Bondi Beach has several parking lots available, although they can get crowded during peak times. Keep in mind that parking fees may apply, so be prepared to pay for parking.
Taxi or rideshare: Taxis and rideshare services are also available for convenient transportation to Bondi Beach. Simply book a ride and enjoy a hassle-free journey to the beach.
Conclusion
Bondi Beach is a true paradise for beach lovers, food enthusiasts, and adventure seekers. With its stunning coastline, vibrant food scene, and thrilling outdoor activities, it offers the ultimate escape from the hustle and bustle of city life. Whether you're looking to catch a wave, indulge in delicious cuisine, or embark on an adrenaline-pumping adventure, Bondi Beach has it all. So, pack your bags, grab your sunscreen, and get ready for an unforgettable experience at Bondi Beach. Your Australian beach adventure awaits.