Bako National Park A Guide to Getting There and Exploring
Bako National Park is a national park in Sarawak's Kuching District, Kuching Division. It is Sarawak's first national park, having been established in 1957. It has a surface area of 27.27 square kilometers and is located near the tip of the Muara Tebas peninsula, at the confluence of the Bako and Kuching rivers.
Bako National Park's different ecosystems include rainforests, mangrove swamps, and coastal cliffs. It provides tourists with a one-of-a-kind opportunity to explore Borneo's diverse wildlife. The park is home to a variety of plant, mammal, bird, and reptile species, including the Borneo-endemic proboscis monkey.
In this article, we will explore the ideal time to visit bako national park, taking into consideration weather patterns, wildlife sightings, and overall visitor experience.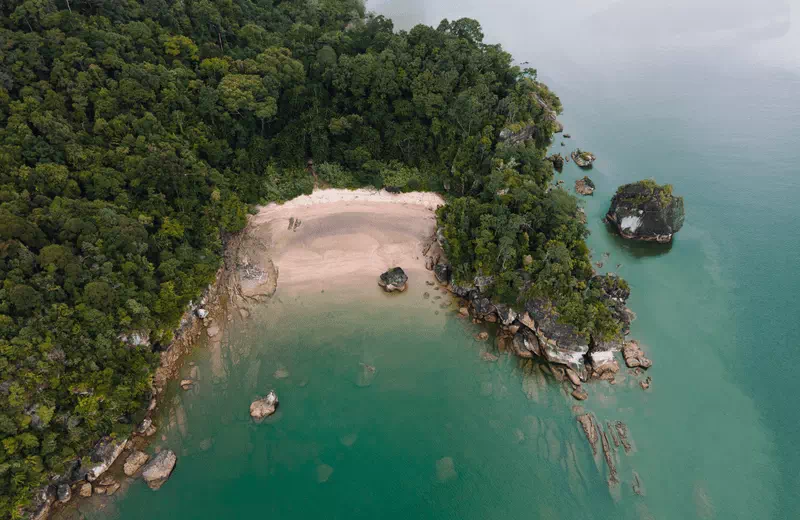 Proboscis monkeys, orangutans, sun bears, and hornbills are among the animals found in the park. The Rainforest Discovery Trail, Telok Pandan Kecil Trail, and White Water Creek Trail are among the routes that visitors can use to explore the park.
Bako National Park is a popular day trip location from Kuching. The park can be reached by road or boat. There is a tourist center, a cafeteria, and a campground in the park.
Bako National Park's large network of hiking trails is one of its key draws, allowing visitors to explore the park's various habitats and experience its natural gems. The routes range from modest strolls to challenging trips, and there is something for everyone's level of fitness and adventure.
Bako National Park is also known for its beautiful beaches, such as Telok Pandan Kecil and Telok Paku. These peaceful beach areas provide a relaxing environment for entertainment for swimming and sunbathing.
Bako National Park visitors can also indulge in activities such as wildlife spotting, birdwatching, and photography. The park provides simple accommodation and camping facilities for tourists, allowing them to spend more time engaged in the natural surroundings.
It is important to note that Bako National Park is a protected area, and visitors must abide by the park's rules in order to preserve the park's pristine nature. This includes not feeding or approaching wildlife, staying on approved pathways, and being respectful of the natural environment.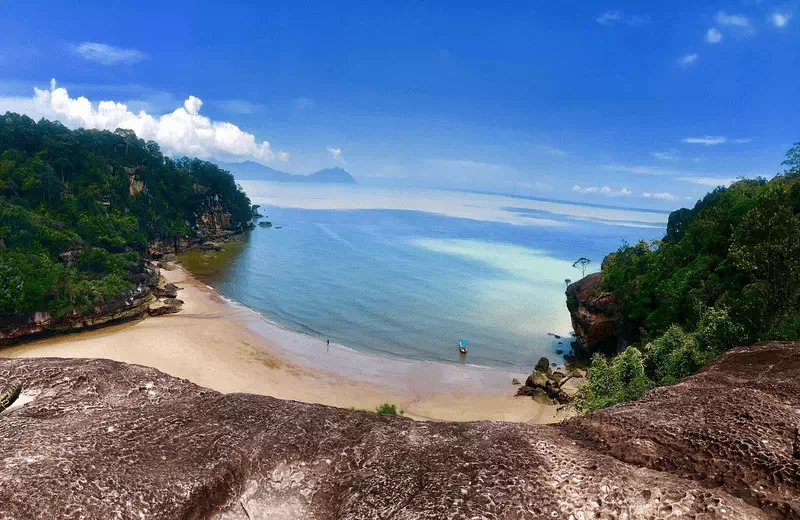 How To Reach Bako National Park
Bako National Park is located in the Malaysian state of Sarawak, specifically in the city of Kuching, serving as the park's gateway. Here's how to get to Bako National Park:
Fly to Kuching
Kuching can be reached most easily by flight. Kuching International Airport (KCH) is well-connected with major cities in Malaysia and other international destinations. Flights to Kuching are available from Singapore, Kuala Lumpur, and other nearby airports.
Public Bus and Boat
Take a public bus to Bako Market (Tambang Bas Bako) from Kuching Sentral bus terminal. You can then board a boat at Bako Village Jetty and travel to Bako National Park Headquarters from there. Usually, the boat ride lasts between 20 and 30 minutes.
Taxi and Boat
An alternative is to take a taxi from Kuching to Bako Village Jetty, where you can board a boat to the park's headquarters
From Kuching to Bako National Park Headquarters
After you arrive in Kuching, you must travel 37 kilometers northeast of Kuching to reach Bako National Park Headquarters.
Organized Tours
A lot of tour operators in Kuching provide scheduled excursions to Bako National Park, usually including transportation and a guide. If you would rather have a guided experience, this may be a convenient choice.
Boat Transfer to the Park
You must register at the park office when you arrive at Bako National Park Headquarters. In order to get you to the park proper, park staff will arrange a boat transfer. Before reaching the park's entrance, the boat journey provides beautiful views of the coastline and mangroves.
It's important to remember that the boat transfer follows a set schedule, so verify the times ahead of time. It's also a good idea to schedule a day trip or overnight stay in the park to experience all of its beauty and explore the different activities it has to offer.
Top Places to Visit Around Bako National Park
Kuching City
Semenggoh Wildlife Centre
Gunung Gading National Park
Fairy Caves
Sarawak Cultural Village
Santubong Peninsula
Annah Rais Longhouse
Kubah National Park
Overall, Bako National Park is a must-see for nature lovers and outdoor enthusiasts, providing a one-of-a-kind and unforgettable experience in the heart of Borneo's amazing biodiversity. There are many things to do here in Bako National Park. So you must visit here.