Badrinath Temple & Before Going to Badrinath Yatra Top Things to Know
Badrinath Temple is also known as a Badrinarayan Temple which is a Hindu temple as well as that temple is dedicated to the Lord Vishnu. Badrinath Temple is located at the Badrinath, Uttarakhand, India as well as that Badrinath temple is considered one of the Char Dham as well as also consider as a Chota Char Dham pilgrimage sites.
1. About Badrinath Temple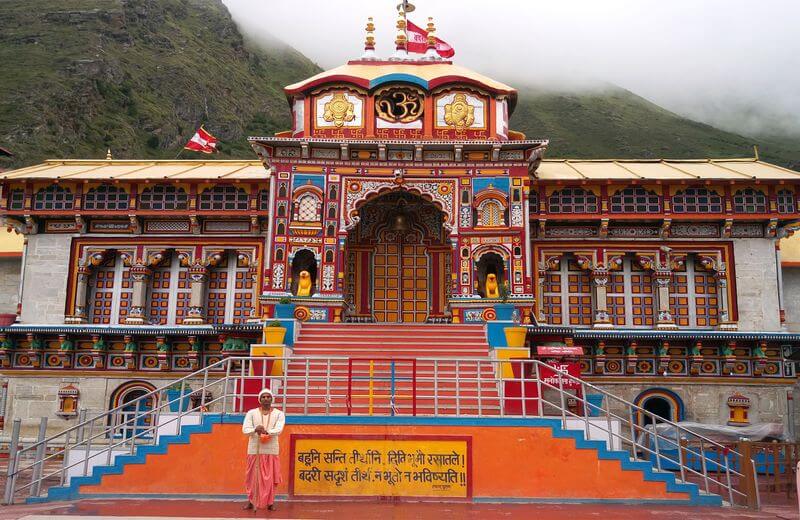 Badrinath Temple is one of the 108 Divya Desams and that is dedicated to Lord Vishnu. Because of the weather conditions of the Himalayan region that Badrinath temple is open for only six months or that duration is between the end of April and beginning of the November month.
Badrinath temple is located at the Garhwal hill track which is in the Chamoli district. Badrinath temple is a 3,133 m means approximately 10,279 ft above the mean sea level as well as Badrinath is one of the most visited pilgrimage means one of the best palaces for the Tirth Yatra and also that palace has record of 10, 60,000 visits. Badrinath temple is also mentioned in the ancient religious texts like Skanda Purana as well as Vishnu Purana.
Affiliation of the Badrinath Temple is Hinduism as well as that Badrinath temple is also mentioned in several ancient books and Bhagavata Purana, Mahabharata and also Skanda Purana is an example of that book. Opposite to Badrinath temple is the Narayana Parbat Mountain is located as well as that Narayana Parbat is located at the back of the Neelakanta.
Badrinath temple is contains various palaces surrounding the Temple for visit like gorgeous waterfalls, surreal destinations like Auli, mighty mountains, Valley of Flowers and Hemkund Sahib and the most important is the last Indian Village or name of that village is Mana or really we don't miss to visit that palace as well as that village is contains a country's last Tea Stall and so on.
Badrinath contains various activities to do like Holy Dip at Tapt Kund as well as Base Camp of Neelkanth and also Base Camp of Satopanth apart of that Badrinath also provides tracking at the gorgeous Valley of Flowers. Badrinath Temple is open for only six months, so when we want to visit that temple the best duration is between April and November as well as April to mid-June and October to mid-November time is an ideal time to visit that temple.
Panch Badri is a Badrinath temple numbers among the five related shrines which are dedicated to the Lord Vishnu or that five temples is Vishal Badri, Yog Dhyan Badri, Bhavishya Badri, Vridh Badri and Adi Badri.
When we are going at the Badrinath at that time we must need to know about some important thing like there is only BSNL connect are working properly as well as Badrinath Temple is easy to access from the taxi stand we can say walking distance are there as well as we need to caring medicines for emergency or also care about things like umbrellas, raincoats, walking sticks and so on.
History
Badrinath Temple is contains no historical records but in the Vedic Scriptures the presiding deity Badrinath is mentioned as well as according to some accounts till the 8th century that temple was Buddhist Shrine but after that that temple was converted into a Hindu temple by Adi Shankara. According to the 9th century accounts The Badrinath Temple was originally established as a pilgrimage site.
With the help of the Parmar ruler king Kanak Pal the Adi Shankara expelled all the Buddhists in the region according to the traditional story as well as hereditary successors of that king is governed the temple and also that endowed villages to meet its expenses. To feed as well as for accommodate pilgrims that income from a set of villages is used as well as Bolanda Badrinath, meaning speaking Badrinath that title was held by the Parmar rulers.
The Badrinath temple was expanded by the Kings of Garhwal during the 17th century as well as after the damage of 1803 means Himalayan Earthquake that temple was rebuilt by the king of the Jaipur or as late as 1870s still that temple is under renovation but that was completed at the time of the First World War.
That time that town was still small as well as that town contains 20 odd huts houses of the staff of the temple but visitors of that pilgrims are between seven to ten thousand. Every twelve year the Kumbh Mela Festival is raised and 50,000 visitors are there.
Panch Badri
Panch Badri is a Badrinath temple number among the five related shrines which are dedicated to the Lord Vishnu here we are describing the information about those five temples:
1. Vishal Badri
Vishal Badri is a Badrinath temple in the Badrinath.
2. Yogadhyan Badri
Yogadhyan Badri is located at the Pandukeshwar or in that temple image of Badrinath in meditative posture is there and King Pandu installed a statue here or name of that is Yogadhyan Badri according to the accounts.
3. Bhavishya Badri
According to the Jyotirmath the Subain 17th legend says when the evil rises over the world at that time Badrinath will become inaccessible as well as Badrinath will appear at the temple of Bhavishya Badri and as per that the future or Bhavishya Badri.
4. Vridha Badri
According to Jyotirmath in Animath 7th legend Vridh Badri means Old Badri legend says before enshrined at the current Badrinath the worshiped of the Badrinath image is originally done here.
5. Adi Badri
Karnaprayag 17th legend is one complex consisting of sixteen small temples with the carvings houses and three is a foot black stone statue of Lord Vishnu.
2. Top Things to Know Before Going to Badrinath Yatra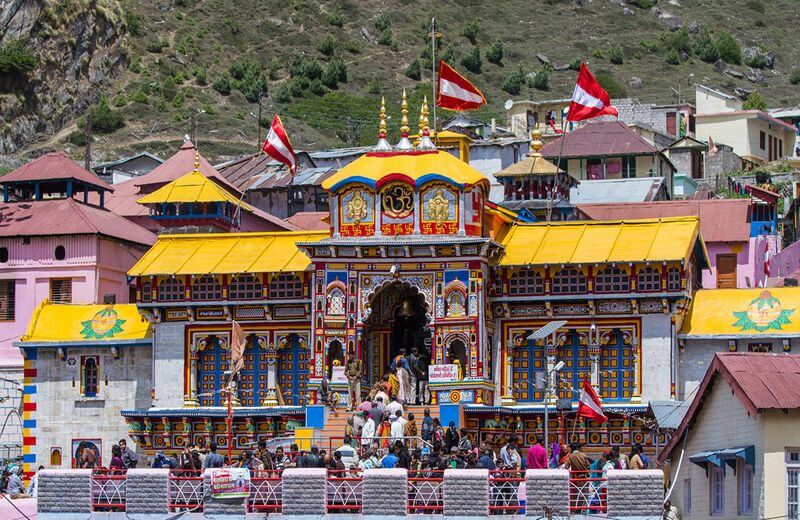 Best Time to Visit Badrinath
Badrinath Temple is open for only six months means only open for brief periods because of the location as well as elevation or that Badrinath Temple is open at the end of April and close at the beginning of May.
Badrinath Temple is close right after the Diwali and after that the next six month of the winter because of that we can say that the best time to visit the Badrinath temple that is between April and November as well as April to mid-June and October to mid-November time is an ideal time to visit that temple.
The Best Time for a Tourist to Visit Badrinath Is From Late

May to June and September to October.
Winter Season
Badrinath temple is close for six months because of the location and elevation so on winter duration the entire region is covered under the blanket of snow so Badrinath Temple is closed to the public for the winter season as well as during the winter's pilgrims will be able to pay obeisance to the Lord Vishnu (Badrinath).
Monsoon Season
In the Monsoon season heavy rains are there so that season is packed but sometimes continues for days as well as 25 °C is an average temperature of the drops which is highest. That season is in full swing through to that Yatra so advisable to visitor that check weather forecast as well as carries certain things like umbrellas, raincoats, walking sticks and so on.
Summer Season
The temperature in summer is between range of 15 °C and 30 °C lasts till mid June so that season is quite pleasant for the devotees to conveniently perform the pilgrimage as well as the Summer season at Badrinath temple all ice is melted and also the sun starts war afternoon time.
Activities Around Badrinath
Badrinath contains beautiful charm surrounding the temple so we don't need missed it as well as there are several opportunities of witnessing are there like trekking as well as sipping tea at India's last village and so on. Badrinath also provides activities to do like take a Holy Dip at the Tapt Kund as well as also provides trekking to the gorgeous Valley of Flowers.
Badrinath temple is also provides Base Camps of the trek to the gorgeous valley of flowers as well as Neelkanth and so on. Badrinath provides wonderful experience of the visit last village of India, Mana and also have tea at India's last Tea Stall as well as provides tour of Auli, Vyas Gufa, Vasudhara Waterfalls and also Narad Kund.
Darshan at Badrinath Temple
There are various options are there for viewing the Lord Badrinarayan which is inside the temple as well as daily time of the Badrinath temple is at 4:30 am and also that is starts with the Abhishek Puja or Maha Abhishek. The visitors are book that rituals by booking and we can book that with paying some fees and that fees is approximately around 4, 000 rupees per person or now a days that is peaceful as well as enchanting way of seeing idol.
Badrinath temple is open at 6:30 for the public as well as closes at noon or after that opens again at 3 pm to 9 pm and the main thing is that the best auspicious time to visit that temple is 6:30 am because of the public puja and also photography is prohibited inside the Badrinath Temple.
When we are visiting Badrinath temple on any busy time durations to see the idol at that time that visitors who don't want to pay extra or don't want to skip lines then they people as well as visitors can wait for a couple of hours as well as continue day the price starting from 151 rupees for attending the Kapoor Aarti in the evening and also for the performance of a special seven-day Shrimad Bhagwat Saptah Path Puja we need to pay up to the 35,101 rupees and also 11,700 rupees per person is a cost for attending the temple's daily rituals.
What to See
Inside The Badrinath temple 3.3 feet-tall black stone idol of Lord Vishnu (Badrinarayan) is there and Lord Badrinarayan is sitting in a meditative pose as well as 15 other deities are there within the temple premises or some of them is outside the sanctum and some of these is inside the sanctum.
These are includes Garuda which is Vehicle of the Lord Vishnu as well as Uddhava and he is Lord Krishna's friend and also devotee or also Kuber are there Kuber is a god of wealth and also Lord Ganesh, Shridevi, Nara or Narayana, Bhudevi are there. At Badrinath temple also have a medicinal hot sulfur spring which is Tapt Kund and that is below the pilgrims can take a dip in before entering the temple.
How to Reach Badrinath
Badrinath temple is located at the Garhwal hill track which is in the Chamoli district so as per that we also need to know how we can reach at the temple so that city has an access of various transportations like Train, Road as well as Air as well as as per our experience the best way to reach at Badrinath temple is by train or road.
Before Going to Badrinath Yatra top 5 Things to Know
When we are visiting Badrinath before that time we must need to know about that five main things
We need to walk to reach the temple from the Taxi stand but it was nominal as well as among all four destinations Badrinath is easy to access.
At the Badrinath the connectivity of mobile is quite good as well as there is an excellent network connection of the BSNL.
We need to take or we can say we must need to carry medicine for the high altitude sickness because of any case of an emergency and also through the chances is almost negligible but for the emergency purpose we need to carry it.
That is not mandatory to do Darshan at morning hour but it was beneficial because after Darshan we have time of day to explore around the town.
We need to take or carry something warm to wear it is not mandatory but ideal during the summers because in the summer though it remains considerably pleasant.
Top Places to Visit around Badrinath
Around the Badrinath there are several palaces to visit like pristine as well as serene as the temple itself is a best palace. Badrinath is a nature based region so the beauty of nature is the most important thing to see but that is nature based region so vehemently that missing out on that palace it can become a regretful mistake.
Surrounding the Badrinath various palaces are there to visit like mighty mountains as well as the Valley of Flowers and also gorgeous waterfalls or some surreal destinations are there like Auli as well as last Indian Village Mana is also best place to visited really we don't need miss that palace.
Valley of Flowers as well as the Valley of the Hemkund Sahib is also best attraction near the Badrinath and also several Hindu shrines which are showers immense blessings or last village, Mana.