Wat Mahathat (Buddhist Temple) In Ayutthaya, Central Thailand
Today we are going to talk about a temple called Wat Mahathat. This temple is located in Ayutthaya, central Thailand. Wat Mahathat is a Buddhist temple. Here we get information about the construction, atmosphere, history etc. of Wat Mahathat Temple. So let's find out a little more about Wat Mahathat.
Wat Mahathat (Buddhist Temple)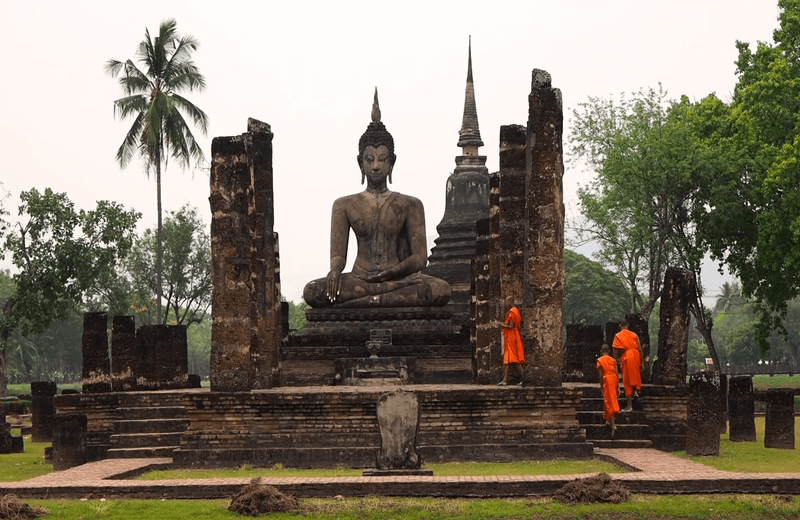 The history of this temple begins in 1374 when King Borommaracha I built the Wat Mahathat Temple at that place. This temple was one of the most important temples of Ayutthaya state. The huge monastery, located on the island of Wat Mahathat Temple, has a large central courtyard, a very large principal viharn and ubosot and a large number of subsidiaries, the chedis and viharns.
The Wat Mahathat Temple establishes Buddhist relics and this temple was the place of the highest proponent of Buddhism and thus the center of Buddhism in Ayutthaya state. This temple is a monastery located near a royal palace so tourists like to visit here. A huge prong was erected to establish Buddhist relics in Wat Mahathat Temple.
The prong broke out in the early 17th century, after which it was restored and enlarged. The Wat Mahathat Temple contains valuables, gold ornaments, antique images of Buddha and other valuables. The design of this temple follows the ancient Khmer mountain temples of Angkor in Cambodia. Wat Mahathat Temple was built to symbolize Hindu and Buddhist views of the universe.
Numerous images of Buddha in this temple line the gallery, which was then covered with a wooden roof. Around the hall of the Wat Mahathat Temple are eight semicolon stones that mark the sacred area of ubosot. On both sides of the main buildings of this temple, which is enclosed from east to west, many small monuments and ladders have been erected during different periods. The temple is open daily from 8am to 5pm and its entrance fee is 50 Thai Baht.