The Temple Of Venkateswara Malibu Hindu Temple (California, USA)
Today we are going to talk about Malibu Hindu Temple. This temple is located in California, USA. This temple is the temple of Venkateswara, the Hindu god built in 1981. Malibu Hindu Temple is operated by Hindu Temple Society of Southern India. This temple is built in the traditional South Indian style. This temple is frequented by followers of Hinduism in Southern California. The Malibu Hindu Temple is known as the largest Hindu temple in the Western Hemisphere. So let us find out more about Malibu Hindu Temple.
Lord Venkateswara Temple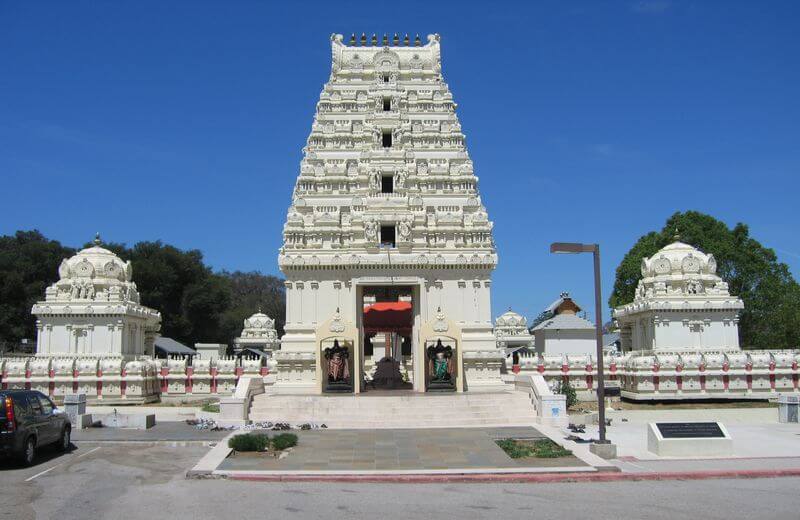 Priests are located on the Malibu Hindu Temple ground and remain here. There are many gatherings for ceremonies in Malibu Hindu Temple and here are numerous places for meditation and picnic. Malibu Hindu Temple is the perfect platform for special cultural and Hindu programs. There are two complexes in the Malibu Hindu Temple, whereas the supreme deity with Lord Venkateswara and as the supreme deity which is the following complexity with Lord Shiva. In addition to the presiding deity, both complexes also have temples for other deities.
This temple is open during the weekdays from 9:00 AM to 12:30 Noon and from 5:00 PM to 8:00 PM during the summer season and 9:00 AM to 12:30 noon and 5:00 PM to 7:00 PM during the winter season are open for open to the vision of God. This temple is open from 8:00 AM to 7:00 PM during the holidays. Malibu Hindu Temple is considered one of the best examples of traditional Indian religious architecture in the United States.
The Malibu Hindu Temple in California is sanctity for that seeking a change in traditional American Christianity, but it is still the mainstream of international perspectives. In the late 1970s, the Hindu population of southern California was large and included people of Indian origin, as well as many American-born followers, and at that time it was decided that a new temple was needed to serve the community. A site was selected in the wealthy Los Angeles suburb of Malibu to establish the Malibu Hindu Temple .
This temple was completed in 1981. Many of them were part of the field industry for generous donations from the local wealthy Hindus. And in the 1980's, this temple became one of the most beautiful religious centers. Since then, Malibu has hosted many celebrities at Hindu Temple, many of whom are followers and is occasionally used as a filming place.
This temple is a wonderful complex of white brick and marble buildings. Malibu Hindu Temple, surrounded by many lands by open space, is standing in front of hills surrounded by misty trees. Pyramid-like towers covered with carved images from Indian mythology are the most attractive features of this temple.
This temple provides space for an extended underground services and places of complex Indian traditional music. At the Malibu Hindu Temple, the incense-covered marble sanctuary dedicated to Shiva contains silver pieces and multiple temples for other deities. Malibu was instrumental in overseeing the construction of the Hindu Temple and bringing priests from India. In this period, this temple is usually managed by the Hindu Temple Society of Southern California. In 1997, the Malibu Hindu Temple was used in a small scene in the Beverly Hills Ninja film and in the Tamil film Jeans song in 1998.