Discovering the Natural Wonders of Laniakea Beach, Hawaii
Laniakea beach, also known as turtle beach, can be found on the north shore of oahu and is famous for being a favored spot for hawaiian sea turtles (honu) to feed and sunbathe. While many circle island cruises stop here for photos, the beach is also popular with locals for surfing and swimming.
Laniakea beach, also known as turtle beach, is a unique destination that is home to a population of hawaiian green turtles. These gentle creatures can be observed basking in the sun on the sandy shores during the day and navigating the rough waves. There are volunteers present to ensure the safety of the turtles, and signs with information and rules.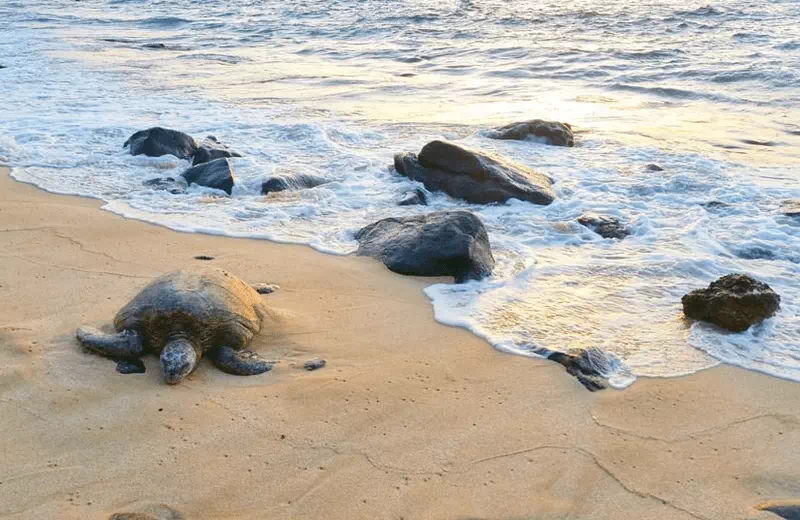 Laniakea beach is a beloved destination for both tourists and locals, especially during morning hours when the green sea turtles are active and the crowds are thinner. This stunning beach is also part of the famed 7-mile miracle, known for its spectacular big waves that attract surfers during the winter months. Beyond the beach's famous turtle residents, laniakea beach is celebrated for its breathtaking natural beauty.
The golden sandy beach is a surfer's paradise, with white-foam waves making it a prime spot for surfing, especially in winter. While the beach is small, visitors can use picnic tables nearby, but there are no restrooms or showers available, and no lifeguards on the beach. Due to its popularity, finding parking can be a challenge, and visitors are advised to arrive early or later in the day.
If driving from honolulu, it takes around 45 minutes without traffic, but it's recommended to account for traffic delays. Nonetheless, there are other north shore oahu beaches and hot spots that are worth exploring.
In addition to seeing the turtles on the shore, visitors can jump into the water to witness the turtles swimming around. Surfers can access offshore surf spots named Laniakea, Himalayas, and Hultin's by using the beach's rocky shelf.
What is the Best Time to Visit Laniakea Beach?
Laniakea beach is best visited between may and september when the sea is calmer and green sea turtles can be seen basking on the shore during the day.
What Time Are the Turtles at Laniakea?
To catch a glimpse of the green sea turtles at laniakea beach, it's recommended to visit between 11 am and 1 pm or just before sunset. Arriving too early in the morning may result in a long wait until the turtles become visible.
How to Get to Laniakea Beach?
To reach laniakea beach, take hwy 99 and proceed to haleiwa town or bypass it and continue on hwy 99. Merge onto Highway 83, which will take you to the ocean. After passing haleiwa, drive approximately 1 mile to reach laniakea beach, where you can find parking across the street from the beach.
Top Places to Visit Around Laniakea
Chun's Reef Beach
Waimea Bay
Waimea Valley
Shark's Cove
Haleiwa Beach Park
Pupukea Beach Park
Haleiwa Alii Beach Park
Ehukai Pillbox Hike
Sunset Beach Park