Cannon Beach, Oregon: A Coastal Haven for Relaxation and Adventure
Cannon beach, a small, lovely town on the oregon coast, attracts guests with a delightful blend of unhurried charm and beautiful scenery. Cannon beach is the ideal vacation spot for everyone who enjoys the great outdoors, with its breathtaking beaches, soaring cliffs, and interesting rock formations.
But this small coastal village is much more than just its natural charms. Every type of traveler may find something to enjoy at cannon beach, from comfortable cafes and gourmet restaurants to art galleries and boutique boutiques.
The broad, sandy beach that spans for kilometers along the pacific ocean is one of cannon beach's main attractions. The famous haystack rock, a 235-foot-tall monolith that protrudes out of the water and acts as a seabird nesting ground, is one of the beach's most notable rock formations.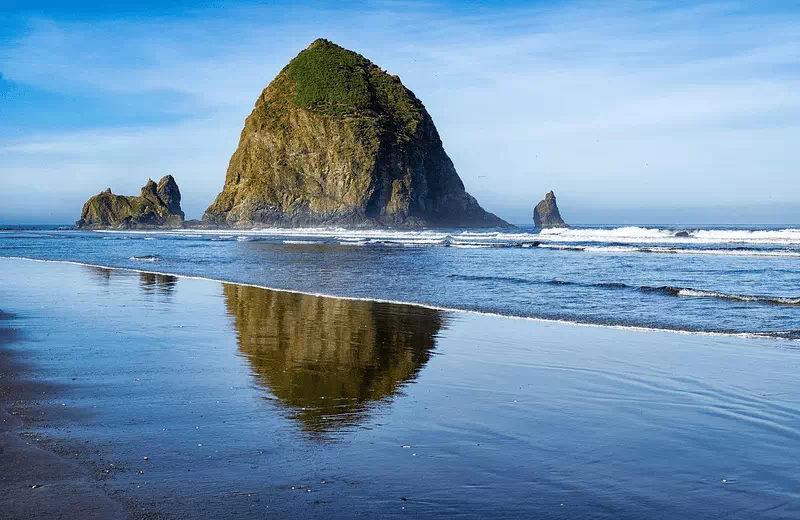 There are lots of paths that snake through the near hills and forests, and the beach is a popular spot for hiking, beachcombing, and surfing.
Cannon beach's beautiful downtown district, which is home to a variety of art galleries and specialized shops, is another must-see attraction. Visitors can browse exclusive works of art, handmade crafts, and souvenirs, or grab some food to eat at one of the numerous cafes or restaurants. Try some of the fresh seafood collected daily by local fishermen for a taste of the local cuisine.
Visitors can take a relaxing walk through the peaceful neighborhoods, conversing with residents and taking in the relaxed environment. Cannon beach is the ideal location to unwind and take in the beauty and culture of the pacific northwest, whether you're here for a day vacation or a longer stay.
Cannon Beach Hotels
Here are some of the top hotels in cannon beach.
The Ocean Lodge
Surfsand Resort
Stephanie Inn
Hallmark Resort
The Wayside Inn
Inn at Cannon Beach
Cannon Beach Hotel
Cannon Beach Dog Friendly Hotels
Here are a few hotels in cannon beach that allow dogs.
The Ocean Lodge
The ocean lodge is an excellent hotel with luxurious accommodations that allows dogs in a few of its rooms for an additional cost.
The Wayside Inn
Just a block from the beach, the wayside inn is a historic inn that allows dogs in some of its rooms for an additional cost.
Sea Breeze Court
A few blocks from the beach, sea breeze court is a low-cost motel that allows dogs in some rooms for an additional price.
Surfsand Resort
Dogs are allowed in some rooms at the family-friendly surfsand resort, which is located right on the beach.
Hallmark Resort
Dogs are allowed in some rooms at the oceanfront hallmark resort, which also has a pet-friendly beach close by.
No matter where you decide to stay in cannon beach, make sure to verify the pet policy in advance and abide by any guidelines or limitations that may be present. And don't forget to stroll the beach with your animal companion!
Discovering the Best Hidden Gems in Cannon Beach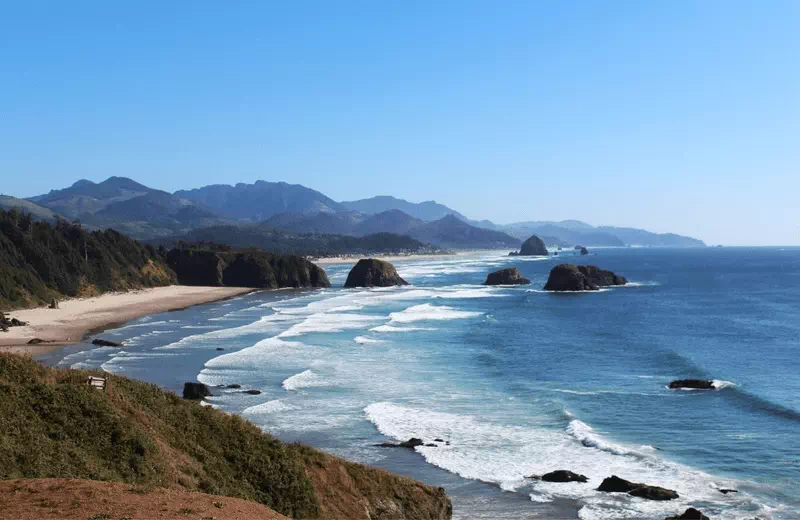 Things to Do in Cannon Beach
Here are some of the top things to do in cannon beach:
Visit Haystack Rock
One of the most popular attractions in cannon beach. It stands 235 feet tall. It's a fantastic location for tidepooling and birdwatching, and tourists may even go on guided tours to learn more about the natural world of the rock.
Go Beachcombing
Is a great way to find seashells, driftwood, and other treasures that the tides have swept up on the long, sandy shore of cannon beach. Swimmers, surfers, and those who just want to relax and take in the amazing scenery may all do so.
Explore the Art Galleries
Cannon beach is known for having a lively art scene, with a number of galleries and studios showing the creations of local and regional artists. A variety of paintings, sculptures, ceramic pieces, and other works of art are available for viewing by visitors, who can also participate in workshops and classes to pick up new skills.
Visit the Local Museums
Cannon beach's rich history is represented in its museums, which offer exhibits on the area's native american ancestry, logging industry, and maritime history. Anyone interested in the history of the community must visit the cannon beach history center & museum.
Take a Hike
There are many options for trekking and exploring around cannon beach because of the tall trees and impressive cliffs that surround it. For breathtaking views of the coastline, visitors can walk up the tillamook head trail or simply stroll slowly around ecola state park.
Go Shopping
Cannon beach's downtown is packed with small shops, boutiques, and specialty stores that sell a variety of one-of-a-kind trinkets, handcrafted goods, and regional goods. Visitors can find everything from handcrafted jewelry to artisanal cheeses and chocolates.
Enjoy the regional cuisine at one of the many cannon beach eateries, cafes, or bistros for a flavor of the pacific northwest. Here, seafood is a specialty, and many of the neighborhood restaurants serve up the freshest catches of the day.
Cannon Beach Camping
In and around cannon beach, camping is a liked activity. In close proximity to the beach and in surrounding state parks, there are a number of campgrounds and rv parks, including:
Cannon Beach RV Resort
This campsite offers full hookups, laundry facilities, and a playground and is only a few blocks from the beach.
Nehalem Bay State Park
Nehalem bay state park offers tent and rv camping, as well as yurts and cabins, and is about 20 minutes south of cannon beach. The park has a boat ramp, hiking paths, and beach access.
Cape Lookout State Park
Cape lookout state park is a campground with tent and rv campsites, as well as yurts and cabins, and is about an hour's drive south of cannon beach. The park offers access to the beach, walking paths, and a former lighthouse.
Fort Stevens State Park
Fort stevens state park, which is about 30 minutes north of cannon beach, provides tent and rv campsites as well as yurts and cabins. The park offers access to the beach, hiking and biking trails, and former military outposts.
Camping at cannon beach is an excellent opportunity to enjoy the great outdoors while discovering the natural wonders of the oregon coast. Just remember to leave no trace and to check for any fire bans or other restrictions before you travel.
A Paradise for Nature Lovers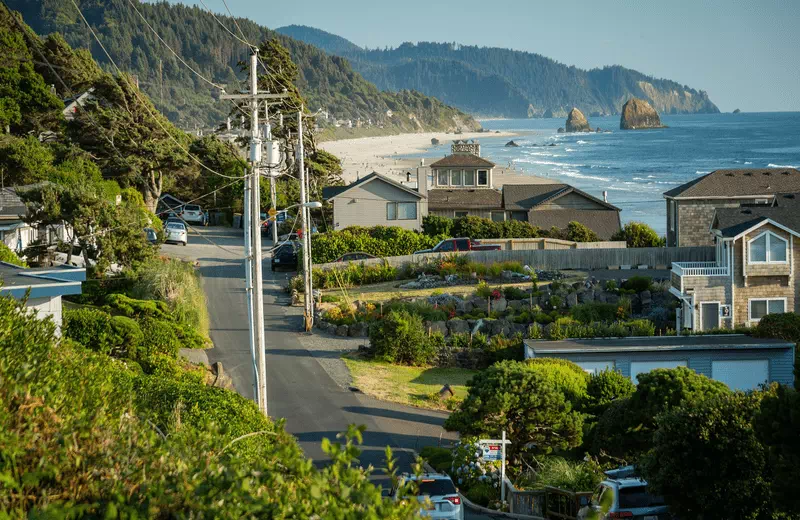 Best Time to Visit Cannon Beach
When planning your trip, keep the following in mind:
Weather
The pacific northwest is known for its dry, warm summers and nice, rainy winters. From june through august, when there are the most visitors, the weather is typically bright and warm, with average highs in the mid-60s to low-70s (fahrenheit). However, the spring and fall might be fantastic times to come if you like cooler temperatures and fewer visitors. There are fewer tourists present during these seasons, which have temperatures between the mid-40s and the mid-60s.
Crowds
During the height of the summer season, cannon beach may become fairly busy, particularly on weekends and holidays. Consider going during the shoulder seasons (late spring and early fall) or even in the winter if you want a more tranquil experience. You'll have more time to explore the natural treasures and take in the tranquil ambience of the town even though certain stores and restaurants may operate with shortened hours or be closed during the off-season.
The greatest time to visit cannon beach will depend on your particular interests and what you plan to do while you're there, in other words. There is a season for you, whether you like hot, bright weather or cooler temps and less people. If you're intending to travel during a busy season, just make sure to check the local event calendars and reserve lodging in advance.
How to Reach Cannon Beach
Here are a few ways of reaching cannon beach from different starting points:
By Car
Driving is the most economical means to get to cannon beach. To get to cannon beach from portland, travel us-26 west in the direction of seaside, then turn right onto us-101 north. Depending on traffic and the weather, the trip takes between 1.5 and 2 hours.
By Bus
There are multiple stops along the northwest point bus route's daily route between portland and cannon beach. It takes about 2-2.5 hours and costs $20 to $25 per person one way. It is advised to make reservations, especially in the high season.
By Air
Portland international airport (PDX), which is about 90 minutes' drive from cannon beach, is the closest major airport. To get to cannon beach from the airport, you can either rent a car or use a shuttle. For their visitors, certain hotels in cannon beach provide shuttle services.
By Train
Cannon beach does not have a direct train line. The amtrak cascades service, on the other hand, travels between portland and seattle and makes stops in surrounding towns like salem and eugene. To go to cannon beach from there, you can either take a bus or rent a car.
Once you arrive in cannon beach, navigating the town is simple. There are numerous shuttle services that run between the town and close-by sites, and the downtown center is modest enough to explore on foot. There are also taxis and rental vehicles available, but parking can be hard at busy times.
Top Places to Visit Around Cannon Beach
Haystack Rock
Ecola State Park
Tillamook Rock Lighthouse
Tolovana Beach State Recreation Site
Indian Beach
Ecola Point Site
Hug Point State Park
Oswald West State Park
Icefire Glassworks