Information About Cavelossim Beach Nightlife And Places To Visit Near Beach
Today we have to talk about the Cavelossim Beach of Goa. Cavelossim is a village in South Goa and state of Goa, India, which hosts a well-known beach at the top of the southern tip of Salcete Beach, which starts north from Majorda to Cavelossim in the south.
Sal River flows in the Arabian Sea in the south of Cavelossim. This town was originally the home of the goddess Kavlem Shri Shantadurga, which is one of the largest temples in the state. Goa was taken from Cavelossim to Kavlem in Pagan Taluka during the investigation of Portuguese. So let's get some information about this beach.
Cavelossim Beach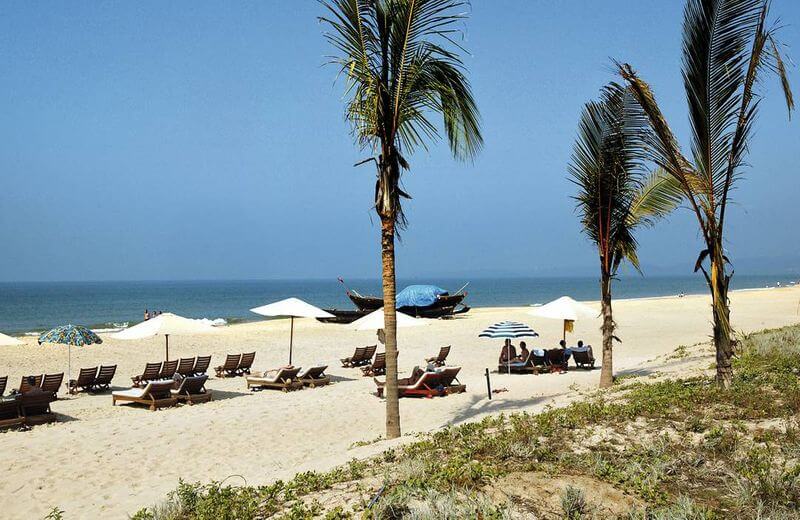 The average literacy rate of Cavelossim is 90.35%. Cavelossim beach is known for its contrasting black rocks and white sand. Cavelossim beach, headquarter of South Goa district, 15 km from Margao Located on the south. This beach is located on the eastern side of the Sal River and in the west around the Arabian Sea. Cavelossim beach is a peaceful beach, attracting many tourists and travelers very much. The dolphin can be seen in the beach for travel by boat.
Cavelossim beach backdrop looks very beautiful with paddy fields and it creates a beautiful atmosphere. Black lava with white sand is easily added to this beach with the contrast of the rocks. This beach is known as the best beach of beaches to enjoy for tourists and travelers. Cavelossim beach is a perfect destination for Goa, making beach holidays extremely enjoyable and wonderful for globetrotters.
Cavelossim beach is an uninterrupted coastal village in southern Goa which is surrounded by a few shack restaurants with water, on the other hand main roads are covered with stalls of the market and known as the home of the holy place. This beach is very close to historic Margao hustle and bustle. Cavelossim beach is suitable for active activities such as go for kayaking or enjoy catamaran sailing etc. Many tourists have said that Cavelossim beach is Goa's cleanest and most quiet beach.
Cavelossim beach is one of India's most beautiful soft beaches. Nightlife on this beach is also very attractive. Cavelossim Beach is simply a perfect place for honeymoon couples, adventure freak or beach lovers. Due to the pleasant atmosphere and beauty of Cavelossim, tourists like to travel there. This beautiful beach offers lounge, discotheque, casino, etc. for the travelers. Popular restaurants and nightclubs like Aqua Swings, Liquid Lounge and Holiday Inn, where early hours, can hang out with their loved ones. Tourists on Cavelossim Beach can enjoy a beautiful sunset view or join a water sports adventure.
Cavelossim Beach is famous for its local markets. You can visit this beach every year. If you are planning to get involved in water-sports activities, it can be in any season other than the monsoon. Cavelossim Beach offers tourists various water sports such as windsurfing, jet-skiing, speed boat rides, banana and bump rides and Can merge into parasailing. Cavelossim beach is known as a great place to see sunsets.
Read More on Cavelossim Beach
1. Things To Do at Cavelossim Beach
Today we want to talk about what a tourist can do by visiting Cavelossim Beach. This beach is the perfect place for tourists who enjoy the endless expanse of clean and calm, beautiful and clear blue water. So let's gather a little more information about this beach.
Tourists can visit the Sandalwood Ayurveda site on Cavelossim Beach to restore their physical and mental strength as well as the excellent arrangement of beauty extension, harmony and pleasure.
2. Best Time To Visit Cavelossim Beach
Here we have to collect information about Best Time to Visit Cavelossim Beach. This is to collect information on where the visitor can visit this beach. So let us know a little more about Cavelossim Beach beach.
The Best Time for a Tourist to Visit Cavelossim Beach Is From Late
November to April
.
Winter Season
The winter season on Cavelossim Beach is a good time to visit for a tourist. The climate on this beach is 19 ° C to 31 ° C this season. This period is very comfortable for a tourist to visit Cavelossim Beach. The weather on this beach is cool from November to February.
Summer Season
This beach is one of the most beautiful beaches in South Goa. Like other places in Goa, this beach is also hot during the summer period. Daytime temperatures at Cavelossim Beach reach 36 ° C this season and are even higher in some days but it is cool in the evening. The period from March to June is the summer season.
Monsoon season
This beach can get heavy rain during monsoon. Tourists are likely to be off to water sports and many shacks during the monsoon period. Water sports are not always safe for tourists during the monsoon season on Cavelossim Beach. The monsoon season lasts from July to October.
3. How To Reach Cavelossim Beach
Here we are going to talk about How to Reach Cavelossim Beach. So let's gather information about how a tourist can visit Cavelossim Beach.
By Air
The nearest airport to reach Cavelossim Beach is Goa International Airport. The airport is located 36 kilometers from the beach.
By Train
The nearest railway station on Cavelossim Beach is Madgaon Railway Station which is 14 kilometers away. And another Balli Railway Station which is located 12 kilometers from this beach.
By Bus
Shivamogga Bus Terminal is the nearest main bus station to Cavelossim Beach. In which tourists run buses from other cities. The Betul Beach Bus Stand on Cavelossim Beach is a local bus stop with a direct bus frequency located 9 kilometers away.
4. Top Places to Visit Around Cavelossim Beach
Dolphins Watch
Goa Water Sports
Cris Cruises
Mobor Beach
Betty's Place Boat Trips