11 Best Beach Destinations in California
California has a greater number and variety of beaches than many other countries. California is well-known for its beautiful beaches, but those expanses of sand are far more diversified than you may have anticipated. Nature and outdoor pleasure can be found at california's beaches.
And we're assisting you in having a fantastic coastal trip by presenting the top beaches in california. Here are eleven of california's top beaches for sea, surf, sand, and sun.
Zuma Beach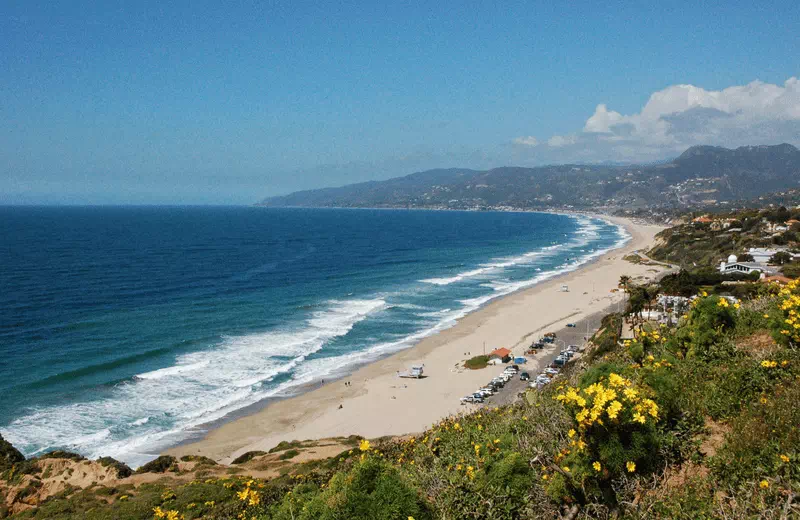 Zuma beach is a county beach in malibu, california, located at 30000 pacific coast highway. It is recognized for its long, wide sands and good surf and is one of the largest and most popular beaches in los angeles county, california.
This beach is famous for swimming and body surfing, but it is also notorious for its riptides and rough surf. Surfing and windsurfing are also available at zuma. Zuma is also a fantastic site to see grey whales migrate in the winter.
The beach is extremely appealing due to its abundance of facilities. Restrooms are located along the beach. There are cold showers and change rooms accessible. Lifeguard stations are placed at regular intervals along the beach and are staffed during the day.
Capitola Beach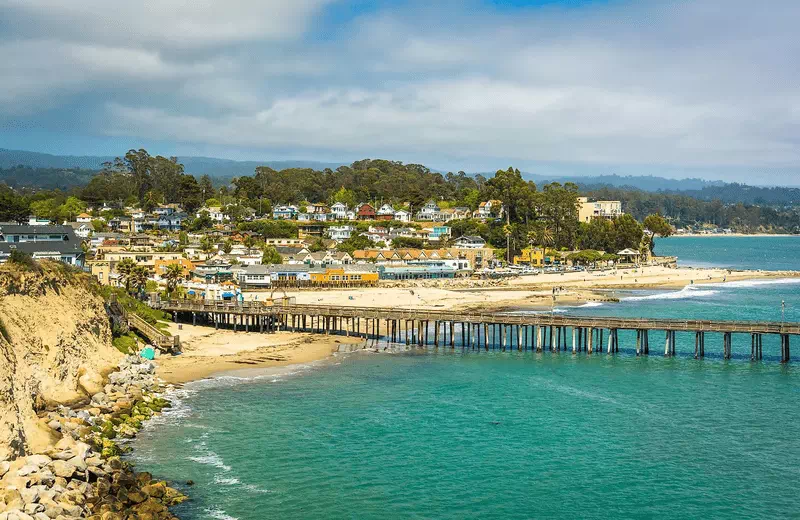 The popular capitola village beach has modest surf, swimming, volleyball, and shops. The sandy shoreline is suitable for sunbathing, swimming, beach volleyball, and sandcastle building, while the protected seas are ideal for first-time surfers.
Capitola, with its many coastal shops, restaurants, and tourist attractions, is one of the most popular west coast destinations. Capitola beach has public restrooms as well as outdoor showers. During peak season, lifeguards patrol the beach.
Carmel Beach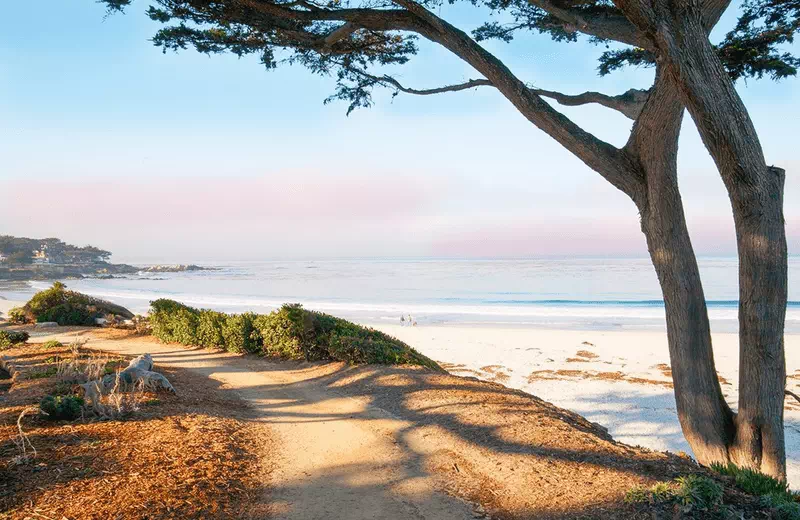 Carmel beach is regarded as "One of america's top beach towns" and is one of the most iconic locations on california's central coast.
Watch the sunset from carmel beach's beautiful sands, attend musical and theatrical performances at the sunset center and pacific repertory theatre, or simply spend the day getting lost amid the legendary streets.
Visitors should be aware that swimming is not permitted at carmel beach. Aside from the frigid water (about 50 degrees), the ocean conditions can be hazardous due to rogue waves and rip currents. There are no lifeguards on duty at this beach.
The beach features free public bathrooms and a modest parking area on ocean avenue.
Coronado Beach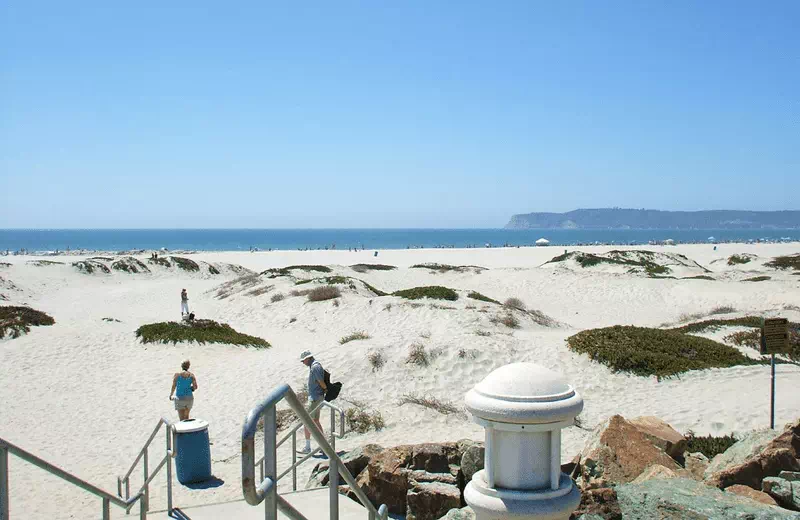 Coronado beach is popular with both children and couples because of its long coastline, which allows for a large number of beachgoers, clean sands, peaceful environment, and great location in the "Crown city" (in spanish, "Coronado" means "Crowned one").
The beach is fairly flat, making it ideal for walking and skim boarding. Families arrive early in the morning, bringing with them umbrellas, beach towels, and picnic coolers for an all-day stay. A fantastic squad of lifeguards is on duty." swimmers, surfers, sunbathers, and beachcombers flock to this beach.
There are restrooms and showers accessible.
Crystal Cove State Park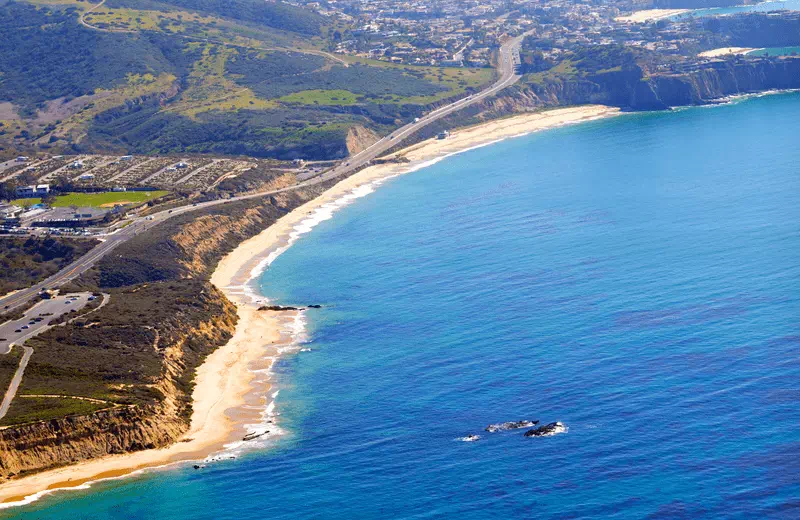 The park sits in newport beach and is part of the broader south coast wilderness. 3.2 miles of shoreline, 2,400 acres of backcountry wilderness, and a well-liked by adventurers offshore undersea area are all features of crystal cove state park.
Crystal cove state park is one of orange county's largest remaining natural seashores. The park includes several beaches, including renowned moro beach and pelican point, as well as numerous tide pools in between.
East Beach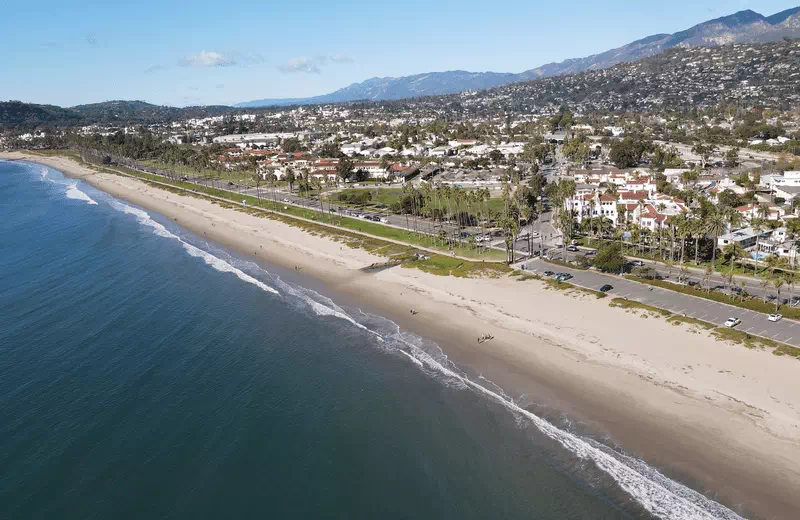 East beach in santa barbara, california, is frequently the first beach seen upon approaching the city boundaries. East beach has picnic areas, over a dozen volleyball courts, a playground, and stunning ocean views. The bathhouse component is run by the city as a fitness center, with a pay-by-the-day option. Showers, a weight room, lockers, and other amenities are available.
la Jolla Shores Beach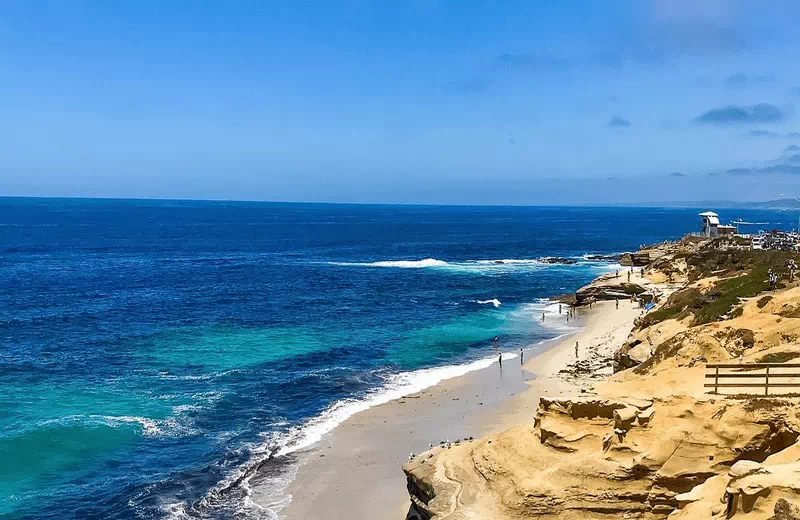 La jolla beaches are well-known for their surf, white sand, and low-tide la jolla tidal pools. Many visitors come to observe the sea lions and seals. One of san diego's most picturesque communities with great shorelines and fantastic adventure options. The major beach in the community, la jolla shores, is ideal for families. This sandy beach is great for swimming and sunbathing.
Note: la jolla, california is well-known for its mouthwatering brunches, breathtaking views, the birch aquarium, and, of course, its stunning beaches.
Pfeiffer Beach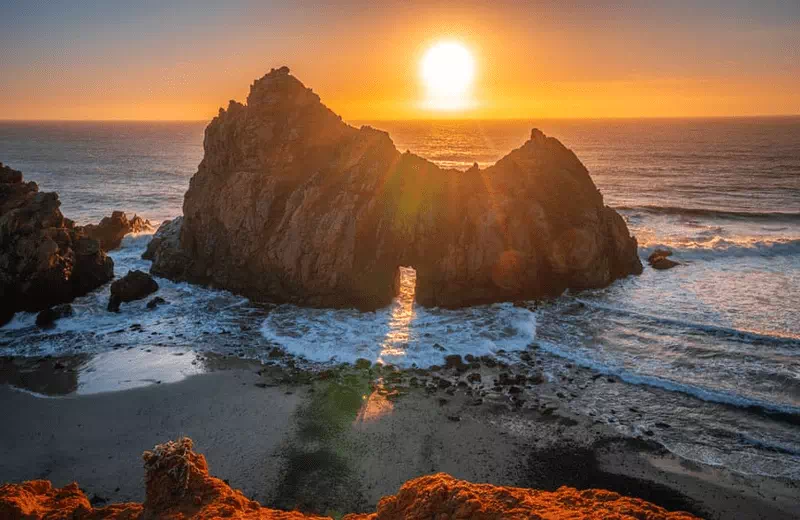 One of big sur's few accessible beaches is also one of california's most photogenic. Andrew molera state park is roughly 10 miles to the southeast. Pfeiffer beach is a stunning unspoiled site that is popular with residents and serene beach is noted for its purple sand, massive rock formations, and breathtaking views with an admission fee.
However, due to strong currents and underlying rocks, the beach is not suitable for swimming.
Point Reyes National Seashore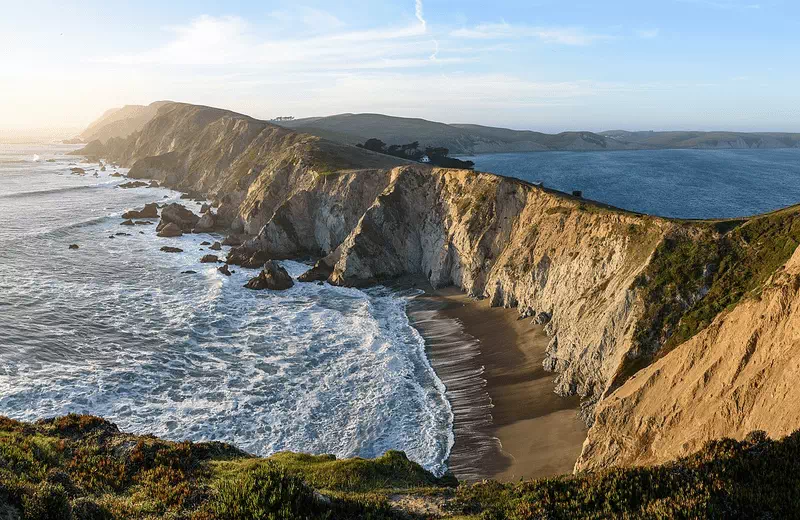 When you visit this one-of-a-kind epitome of coastal california beauty, you may climb a hill and see it all: sandy beaches, huge surf, and surreal cypress trees.
One of california's most underappreciated vacation spots is definitely point reyes. Approximately 40 miles northwest of san francisco. Wildcat beach, with the cliffside alamere falls, is one of the beaches here.
Aside from that, you can go hiking, ranger-led activities, boating, backcountry camping, or even observe the point reyes lighthouse. Every year, hikers, whale watchers, and nature enthusiasts from all over the country visit point reyes national seashore.
Any day of the year, you can visit point reyes national seashore. There is no admission charge. To camp overnight in the park, you must first obtain a permission.
Santa Monica State Beach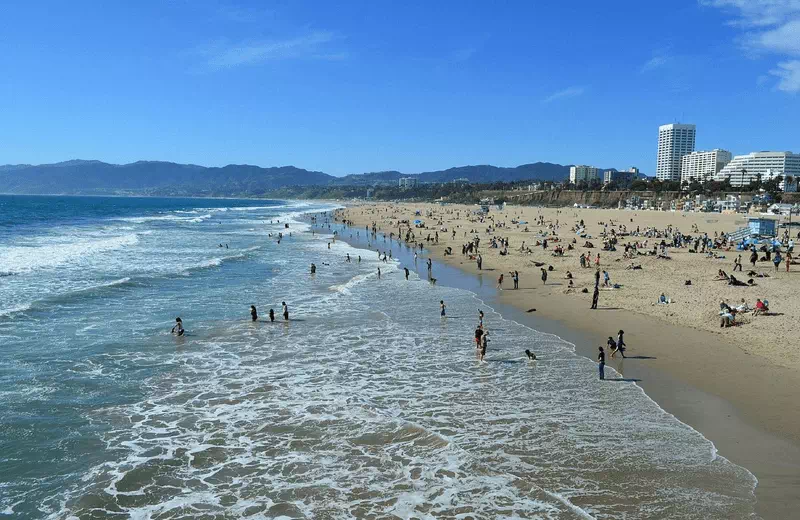 The city of santa monica operates santa monica state beach, a california state park. Santa monica beach is on our list of the greatest swimming beaches in southern california because it is possibly the most iconic beach in the state.
The development of bike lanes and numerous outdoor workout places has increased the beach's popularity. There are also numerous play places on the beach. The pier is a landmark for both the beach and the city, with an amusement park, aquarium, shops, restaurants, and other amenities.
Stinson Beach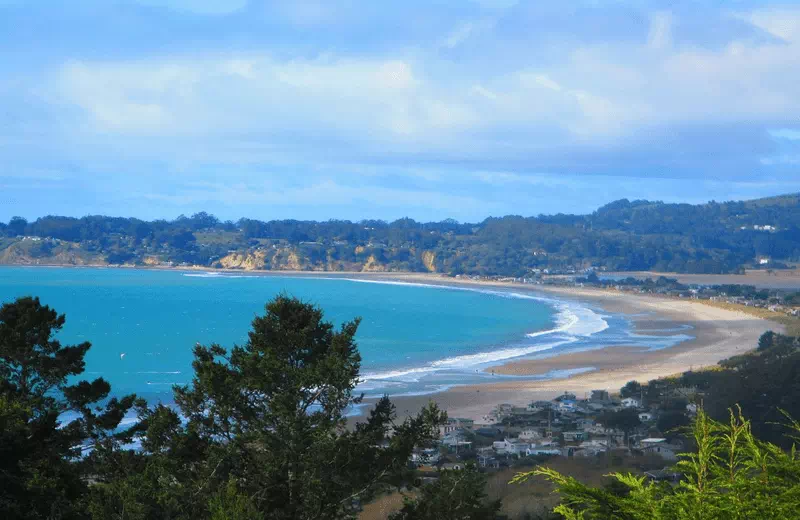 Stinson beach is a census-designated place (cdp) in marin county, california, on the west coast of the united states. Stinson beach is well-known for its stunning red cliffs and smooth white sand that stretches for over three miles. It is one of only a few beaches on the northern california coast with pristine white sand. Both parking and beach access are free.
Stinson beach features great facilities for visitors, including public restrooms, an outdoor shower, a snack shop, and picnic spaces with barbecues. Stinson beach is also safe for swimming because it has lifeguards.