Benaulim Beach South Goa (Is One Of The Most tranquil Beach)
Benaulim Beach is in the India countrie Goa state as well as District of the Benaulim Beach is South Goa and sub district is Salcete. Benaulim Beach is for relaxing or some water based activities are also there as well as the Benaulim Beach is one of the most tranquil beach is the South Goa. The Benaulim village is also known as a Banahalli and also Banawali as well as the meaning of the Benaulim is that ben is a sanskrit word and meaning is arrow and the Kannada word for village.
Benaulim Beach South Goa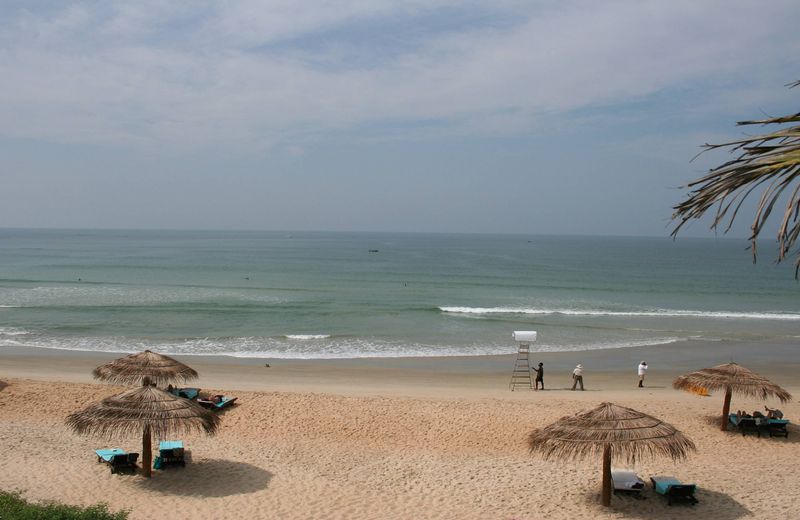 Contemporary Benaulim is a one of the popular resort of the Goa as well as that Benaulim is also renowned for its balmy weather and also golden sands and palm-fringed beaches or there was also Goa's Don Bosco Animation Center. St. Joseph Vaz is a priest and also missionary in Sri Lanka and it is a birthplace of the St. Joseph Vaz. Benaulim Beach contains very exciting features like parasailing, snorkelling or windsurfing and more as well as there are opportunities to practise our favorite water sports and also try hand at new one or choice of that is upon u.
At Benaulim Beach visitors can get all necessary things or resources from the restaurants as well as from bars also and stores are also there in village and also some telephone booths are also there so that place is takes care of our communication and that beach is close to the Mango Market and also there is Christian Fishing Community.
Benaulim contains two popular churches as well as also The Holy Trinity Church and that is a new church and the Holy Trinity Church is built with modern designs as well as the area of the beach is close to Maria Hall Junction and the Baptist Church is old church and that church is popular for baptising St. Joseph Vaz and that church is located in cana benaulim.
In the Benaulim one luxury hotel are there and name of that hotel is Taj Exotica Resort & Spa, Goa as well as that is hidden side of the Benaulim beach entrance behind the resort or the main thing is that in the 2016 that is hosted 8th BRICS summit. Elevation of the Benaulim is 1 m (approximate 3 ft) as well as population of the Benaulim is total 11,919 (as per 2011) or the Demonym of the Benaulim is Benaulimcar and the official language of the Benaulim is Konkani or time zone of the Benaulim is UTC+5:30 (IST) and the pin of the Benaulim is 403 716 and also the Vehicle registration of the Benaulim is GA.
Benaulim Beach is a very known for the fishing so because of that seafood on offer locally is super fresh as well as under our coastline we can easily find number of makeshift beach shacks or also lunch or dinner on that beach is that takes your fancy but dinner under the stars is a very pretty spectacular experience. When we search for the luxury holiday experience at southern end of Goa than Benaulim is best place as well as there is best resort and that is The Taj Exotica Resort & Spa.
Read More on Benaulim Beach
1. Things To Do at Benaulim Beach
Today we are going to go to Benaulim Beach in South Goa and talk about what activities a tourist should do. So let us gather some information about this beach.
Benaulim Beach is the perfect place for a relaxing vacation in the tourist trap.
Tourists can also get involved in water sports like jet skiing, snorkeling, parasailing and windsurfing on this beach.
Benaulim Beach is a better option for tourists who want to go dolphin spotting here as it is a quiet beach.
2. Best Time To Visit Benaulim Beach
Here we have to collect information about Best Time to Visit Benaulim Beach. This is to collect information on where the visitor can visit Benaulim beach. So let us know a little more about Benaulim Beach.
The Best Time for a Tourist to Visit Benaulim Beach Is From Late

November to April.
Winter Season
The Winter Season at Benaulim Beach begins in November and lasts until February. This period is the best period for a tourist to visit Benaulim Beach. The weather is very nice during the winter season on Benaulim Beach and it is also comfortable for tourists to visit.
Summer Season
The Summer Season at Benaulim Beach begins in May and lasts until August. Like elsewhere in Goa, this beach is also hot in summer. Daytime temperatures on Benaulim Beach during this period range between 33 ° C and 36 ° C which is average by Indian standards. But Benaulim Beach is a beach where tourists feel the heat because of all the sand.
Monsoon Season
Monsoon Season on Benaulim Beach starts in September and lasts till November.
Many tourists like to visit this beach during the monsoon season. The hot summer temperatures on Benaulim Beach in the monsoon are cooled by the flow of clouds and rain.
During this season on Benaulim Beach the countryside turns a greenery and vegetable life into its colors.
3. How To Reach Benaulim Beach
Here we are going to talk about How to Reach Benaulim Beach. So let's gather information about how a tourist can visit Benaulim Beach.
By Air
The nearest airport to visit on Benaulim Beach is Dabolim International Airport which is 23.2 kilometers away from this beach.
By Train
The nearest railway station to visit on Benaulim Beach is MADGAON Railway Station, which is 5 kilometers away from this beach.
By Bus
Benaulim Beach does not have a bus station of its own for tourists to visit and the nearest is Margao Bus Station which is 39 kilometers away from Benaulim Beach.
4. Top Places to Visit Around Benaulim Beach
Sernabatim Beach
Varca Beach
Utorda Beach
Majorda Beach
Naval Aviation Museum
Church of Holy Spirit
Sunset Beach