Where Is Agonda Beach In Goa And Places To See Near Agonda Beach
Agonda is a village and that village is located in the Canacona and canacona is in the south Goa district as well as Agonda village is a large village and that village is famous for the beach because of that beach is designed as a turtle nesting sites and that is under the Coastal Regulation Zone 2011 notification. Agonda contains one more beach and that is Cola beach and that beach has adjoining lagoon.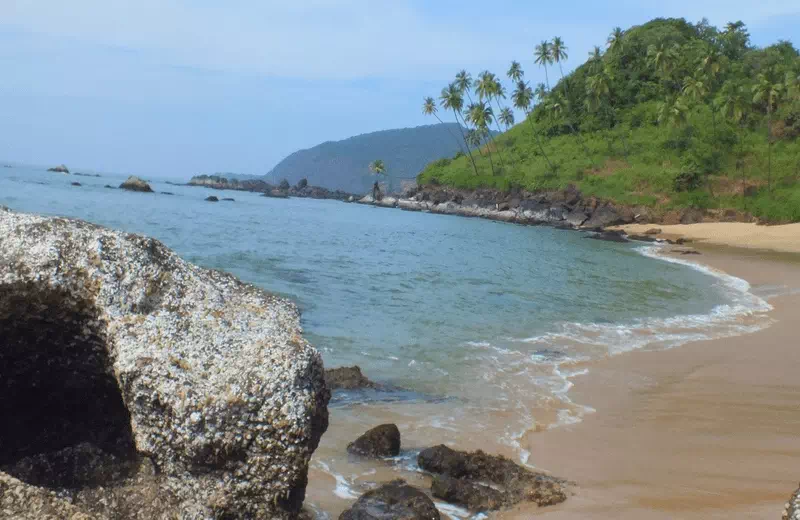 When we are bugged with our busy life as well as when we need to burst out yourself and also when we need to mind surrounded by the sea and also forest at that time we want a rest so the best place to visit is Agonda beach, Goa, India. Agonda is a best place for the relaxing, swimming and also for sunbathing and that all features with relatively few tourists.
Agonda beach is a best place for swimming and that is place for those persons who want to quit on Monday morning as well as when we need to do party then Palolem is just 15 minutes (10 kilometers) far away by motorbike and also we need to know that Agonda is cheaper village as well as also hassle-free, quieter and also that has very less touristic feel.
Agonda is a great place or spot for relaxing but most of the mobile connection is not working because of that it is a added bonus for that people who are looking a quiet holiday but the Vodafone network is there. Government type of the Agonda is Panchayat. Population according to 2011 of Agonda is Total 3,801 as well as the official language of the Agonda is Konkani or the Time zone of that village is UTC+05:30 (IST) as well as Vehicle registration of the Agonda is GA.
Agonda village contains beach and that beach is very natural as well as simple and also the Agonda beach is famous for the Ridley turtle nesting site and also that animals are endangered and we need to keep noise level at night on the beach so we can give chance for nest. Agonda beach is a much quit space so that place is not suitable for party crowd. The beauty of the Agonda beach is not less than other beaches of the Goa as well as we need to relax our body by adventurous swim and also we can chill out our self with a child beer.
Here we are describe the place for visition in the Agonda village so the first one is Cabo de Rama is a fort which was built by the Maratha king Sambhaji Raje as well as that is a part of a Goa and added by Nova Conquesta or that is in portuguese colony and named it Cabo De Rama i.e. or the second place for visiting is Butterfly beach so the Butterfly beach is very hard to reach and also we need to go by boat or we need to hike at least two hours through a dense forest.
Read More on Agonda Beach
1. Things To Do at Agonda Beach
Today we are going to go to Agonda Beach and collect information about how a tourist does activity. So let's talk a little bit about Things to Do at Agonda Beach.
The streets of Agonda Beach run parallel as its streets are long and straight. Most of the hotels and accommodation facilities for tourists are found along the road from this beach. The Agonda Church on this beach is located in the center and to its right is the University of Agonda. Tourists have discovered a few sunbeds lying on Agonda Beach that can be rented for relaxation and sunbathing. These sunbeds are immediately removed and placed inside upon the arrival of Canacona local government officials to make Agonda Beach more beautiful.
Many tourists on Agonda Beach visit it at night to witness the turtles because Agonda Beach is their structure. Tourists on this beach should not flash any strong lights to make the endangered creatures uncomfortable and scare them away. The place is safe, spectacular, quiet and definitely suitable for visiting tourists who are looking for something other than a noisy crowd, vendors and a collection for water sports activities.
Tourists can enjoy fishing in the peaceful afternoon as the sun shines brightly in the deep and blue sky at this place.
2. Best Time To Visit Agonda Beach
Here we have to collect information about Best Time to Visit Agonda Beach. This is to collect information on where the visitor can visit the beach. The temperature of this beach is very hot throughout the year. So let us know a little more about this beach.
The Best Time for a Tourist to Visit Agonda Beach Is From Late

October to March.
Winter Season
The temperature of this beach is very hot throughout the year. January, February, March, April and December are the dry seasons on this beach. January is known as the driest month on this beach. The nights on Agonda Beach from December to February are a bit chilly.
Summer Season
The average temperature of this beach rarely reaches more than 33 degrees Celsius during the day and drops below 20 degrees Celsius at night. The Agonda Beach summer season lasts from May to June. The month of May is known as the hottest month for tourists on this beach.
Monsoon Season
The monsoon season on this beach lasts from July to September. Due to heavy monsoon rains on Agonda Beach every year, all the beach hut resorts in the area are temporarily built. Limited accommodation and restaurants remain open for tourists during the monsoon season on Agonda Beach. July is known as the wettest month on this beach.
3. How To Reach Agonda Beach
Here we are going to talk about How to Reach Agonda Beach. So let's gather information about how a tourist can visit Agonda Beach.
By Air
To reach Agonda Beach, tourists can also rent a cab that is easily available throughout Goa. The nearest airport to this beach is Dabolim Airport which is about 70 km from this beach. And from there the tourist can hire a taxi to reach their destination.
By Train
Madgaon train station is the nearest railway station for tourists to reach Agonda Beach. This station is connected to all the major cities of India. The railway station is located 26 kilometers from the beach.
By Road
To reach Agonda Beach there are regular buses for tourists which run every half an hour from Chaudi to Agonda and which takes about 30 minutes to reach the beach. Buses, taxis and autos are constantly available for tourists on this beach. Regular buses depart from Canacona bus station to reach this beach.
4. Top Places to Visit Around Agonda Beach
Shiv Mandir
Cola Beach
Butterfly Beach
Chapel
Colomb Beach