Experience the Best of Santa Rosa Beach, Florida's Top Attractions and Activities
The Florida Panhandle's Santa Rosa Beach is a stunning coastal town known for its beautiful white sand beaches, emerald waterways, and breathtaking sunsets. It is a part of the broader South Walton County, a popular holiday destination for visitors seeking an inviting beach scene and a wealth of outdoor activities.
Rental beach umbrellas and chairs are one of the greatest ways to take advantage of a day at the beach. Many nearby establishments provide beach chair and umbrella rentals, making it simple and practical for tourists to spend a relaxing day at the beach.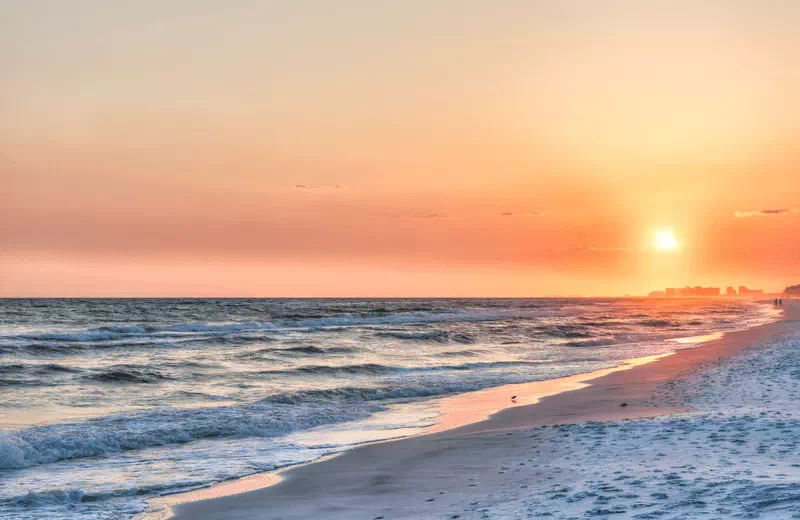 The 30A roadway, which follows the coast and passes through aseveralbeautiful beach towns like Seaside, Grayton Beach, and WaterColor, is one of Santa Rosa Beach's key draws. These towns make it simple for guests to choose athe ccommodation that suits their needs and budget by providing a selection of beachfront homes, cottages, and homes for rent.
Santa Rosa Beach is known for its outdoor activity opportunities in addition to its beautiful shores. Several state parks are located in the region, including Grayton Beach State Park, which provides aseveral miles of hiking and biking trails in addition to camping and picnicking facilities. In addition, visitors can go fishing, kayaking, paddleboarding, or on a dolphin-watching journey to see these wonderful creatures up close.
Many historical monuments may be found near Santa Rosa Beach, including the Eden Grounds State Park, which has a beautifully restored 19th-century mansion and grounds. The park additionally holds other occasions all year long, such as a Christmas festival and a Camellia Festival in February.
Foodies will also enjoy the variety of restaurants in Santa Rosa Beach, which vary from fancy eateries to quaint seafood shacks. Local favorites include the Great Southern Cafe, which serves up fresh Gulf seafood and traditional Southern meals, and the Red Bar, which is popular for its unique decor and live music.
Overall, Santa Rosa Beach in the Florida Panhandle is a hidden gem that gives tourists a chance to relax and unwind in a stunning coastal setting. Santa Rosa Beach offers something to offer everyone, whether they are seeking outdoor adventure, history, and culture, or simply a spot to relax and enjoy the surf and sun.
Hotels at Santa Rosa Beach Florida
You might want to take a look at the following hotels in Santa Rosa Beach, Florida:
30A Suites
WaterColor Inn
Embassy Suites by Hilton Destin Miramar Beach
Hilton Sandestin Beach Golf Resort & Spa
The Henderson, a Salamander Beach & Spa Resort
Courtyard by Marriott Sandestin at Grand Boulevard
The Pearl Hotel
Santa Rosa Beach Golf Cart Rentals
Golf carts are a common mode of transportation in the city. Santa Rosa Beach offers golf cart rentals, which are a useful and environmentally friendly way to get about.
Golf carts are little, electric vehicles that resemble conventional golf carts in size. They may be driven on Santa Rosa Beach's authorized roads and paths and are simple to manage. Golf cart rentals are available from nearby companies or online for a day, a weekend, or longer.
Santa Rosa Beach's various attractions may be explored in an exciting and different way by renting a golf cart. Golf carts may be used to get to the beach, neighborhood stores, and eateries, as well as state parks and nature trails that are close by. In the height of tourist season, they are also an excellent method to escape traffic and parking difficulties.
Driving a golf cart at Santa Rosa Beach is allowed, but it's necessary to be aware of the laws and restrictions. Drivers must, for instance, possess a current driver's license, and the golf cart must be registered and covered by insurance. To guarantee a secure and pleasurable journey, it's also crucial to adhere to all traffic rules and safety regulations.
Overall, renting a golf cart in Santa Rosa Beach may be a practical and enjoyable way to explore the area while also taking in the beautiful scenery and pleasant climate of the Florida Panhandle.
Restaurants in Santa Rosa Beach
There are several restaurants in Santa Rosa Beach, Florida that serve delicious meals for every taste and price range. Here are just a few of the many restaurants you could think about visiting:
The Red Bar :
The Red Bar is a local favorite and is famous for its amazing seafood dishes and unique decor.
Chiringo :
Chiringo is a relaxed seaside eatery serving up tasty seafood dishes and creative drinks.
Cafe Tango :
With an emphasis on seasonal, fresh ingredients, Cafe Tango provides a distinctive fusion of Latin American and Mediterranean cuisine.
Pescado :
Pescado is an upscale restaurant in the center of Rosemary Beach that has breathtaking views of the Gulf of Mexico and a menu of creative, modern meals.
Basmati's Asian Cuisine :
Sushi, curries, and stir-fries are just a few of the Asian-inspired foods served at Basmati's Asian Cuisine.
Grayton Seafood Company :
Fresh, regional seafood food is the specialty of the Grayton Seafood Company, which additionally values environmentally friendly methods and sustainable sourcing.
Stinky's Fish Camp :
Stinky's Fish Camp is a famous seafood restaurant with a laid-back ambiance and fresh, locally caught fish. It is situated on a bayou.
Top Things to Do and See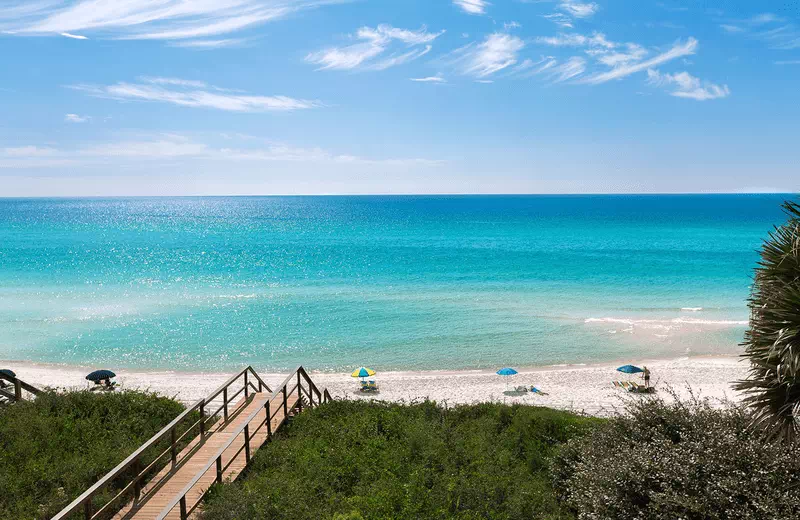 Santa Rosa Beach Gulf Place
In the heart of the 30A area, Santa Rosa Beach's Gulf Place is an active city center and a popular getting together place for locals. Visitors may find a variety of restaurants, luxury shops, and live music performances at Gulf Place. Additionally, there is a wide grass area in the town center where guests may take in outdoor performances all year long.
Additionally, Gulf Place is a popular spot for vacationers due to its easy access to Santa Rosa Beach's stunning beaches. Gulf Place is a must-see location for anybody visiting Santa Rosa Beach because of its unique variety of dining, shopping, and entertainment opportunities.
Things to Do in Santa Rosa Beach Florida
Some of the most enjoyable activities at Santa Rosa Beach include the following:
Relax on the Beach :
Santa Rosa Beach is a perfect location for swimming, sunbathing, and beachcombing thanks to its beautiful white sand beaches and crystal-clear seas.
Take a Dolphin-Watching Tour :
Visitors may view these wonderful animals up close and in their natural habitat by joining one of the many local enterprises that provide dolphin-watching vacations.
Enjoy Local Cuisine :
The region is home to a number of eateries that focus on unique cuisine and fresh, locally sourced seafood.
Golf :
The Santa Rosa Golf & Beach Club and the Shark's Tooth Golf Club are two of the several golf courses in Santa Rosa Beach.
Discover State Parks :
Topsail Hill Preserve State Park and Grayton Beach State Park are only two of the state parks in the region. These stunning natural locations offer visitors an opportunity to camp, walk, cycle, fish, and more.
Visit Seaside :
Seaside, a quaint town noted for its bustling arts scene, boutique shopping, and colorful architecture, is a short drive from Santa Rosa Beach.
Water Sports :
Paddleboarding, kayaking, and fishing are all popular in this region. Local businesses provide equipment rentals and instruction to tourists.
Visit Gulf Place :
Gulf Place is a bustling town center that hosts live music events, restaurants, and shopping throughout the year.

Santa Rosa Beach Your Next Beach Destination Dream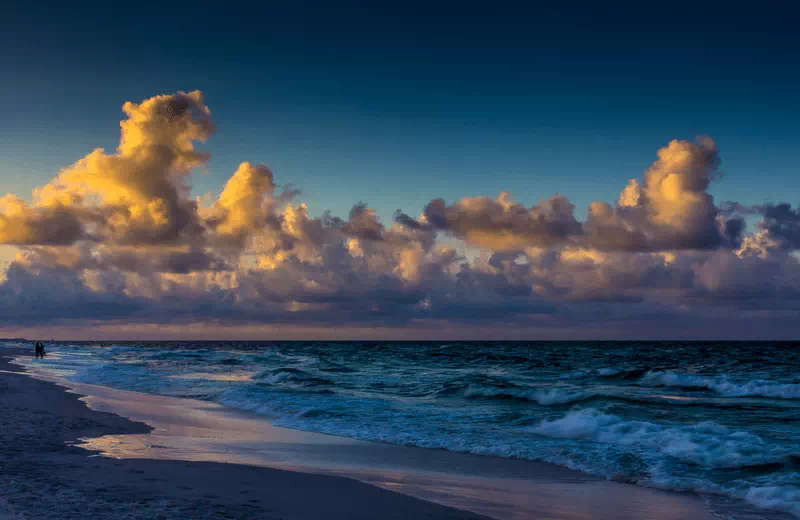 Best Time to Visit Santa Rosa Beach
The best season to visit Santa Rosa Beach, Florida, depends on your vacation preferences. The subtropical environment, with burning summers and mild winters, makes the region a popular year-round destination.
The best time to visit Santa Rosa Beach, Florida, depends on what you're looking for in a vacation. The area enjoys a subtropical climate, with hot summers and mild winters, making it a popular year-round destination.
The busiest travel season at Santa Rosa Beach is the summer, which lasts from June through August. With typical high temperatures in the mid-80s and lots of sunlight, now is the ideal time to enjoy the beach. Be prepared for enormous crowds and more costly accommodation rates, since summer is also the most popular and expensive season to travel.
Consider going to Santa Rosa Beach in the spring or fall if you're looking for better weather and fewer tourists. The region's natural beauty is best experienced in the spring, which lasts from March through May, and has blooming wildflowers and pleasant temperatures in the 70s. With colder temperatures and fewer visitors, the fall, which lasts from September through November, is another fantastic season to travel. Fall is also the perfect season for fishing since several famous species bite in the colder waters.
The most crowded season to visit Santa Rosa Beach is during the winter, from December to February. It is still possible to take advantage of the region's attractions and natural beauty despite the colder temperatures, which may reach highs in the 60s and lows in the 40s. Since many species migrate to the region during the winter, seeing wildlife and birds is an excellent opportunity.
Overall, your choices for weather, people, and activities will decide the ideal time to visit Santa Rosa Beach. No matter what time of year you visit, Santa Rosa Beach has a lot to offer everyone thanks to its subtropical climate and range of attractions.
How to Reach Santa Rosa Beach
Santa Rosa Beach is a beautiful spot on Florida's Panhandle, making it reachable by a variety of modes of transportation.
By Car :
Santa Rosa Beach is easily accessible by car through the main highways if you're coming from a neighboring city. The US Highway 98, which runs past Santa Rosa Beach and links Panama City and Pensacola, is the main road.
By Bus :
Santa Rosa Beach is only a short drive from the neighboring towns of Destin and Panama City Beach, which are accessible by Greyhound Lines.
By Taxi or Shuttle :
From the nearest airports or cities, you can also arrange for a taxi or shuttle service to transport you directly to Santa Rosa Beach.
By Air :
Northwest Florida Beaches International Airport (ECP), which is located in Panama City Beach and is about 30 miles from Santa Rosa Beach, is the closest airport. Pensacola International Airport (PNS) and Destin-Fort Walton Beach Airport (VPS), both approximately an hour's drive from Santa Rosa Beach, are other local airports.
By Train :
Amtrak doesn't provide train service to Santa Rosa Beach, but you may take a train to one of the surrounding cities, such as Pensacola or Crestview, and then continue your trip by vehicle from there.
Once you get to Santa Rosa Beach, there are a lot of rental car agencies, bike rental companies, and golf cart rental services you may use to get about.
Top Places to Visit Around Santa Rosa Beach
Here are some of the top places to visit around Santa Rosa Beach:
Grayton Beach State Park
Seaside
Gulf Islands National Seashore
Destin Harbor Boardwalk
The Village of Baytowne Wharf
Eden Gardens State Park
Gulfarium Marine Adventure Park
Panama City Beach
E.O. Wilson Biophilia Center
Henderson Beach State Park
Point Washington State Forest
Santa Rosa Beach Golf Course
Seagrove Beach
Topsail Hill Preserve State Park
Big Kahuna's Water and Adventure Park