A Guide To The St. Pete Beach Florida
St. Pete Beach is a Florida resort city located west of St. Petersburg on a barrier island. It is well-known for its beaches. The pink Moorish-style Don CeSar Hotel, built in 1928, looms over the beach.
The Pass-A-Grille neighbourhood has galleries, shops, and the Gulf Beaches Historical Museum, which is housed in a 1917 church and displays postcards and other artefacts. Boats depart nearby for Shell Key, a seabird and turtle nesting site.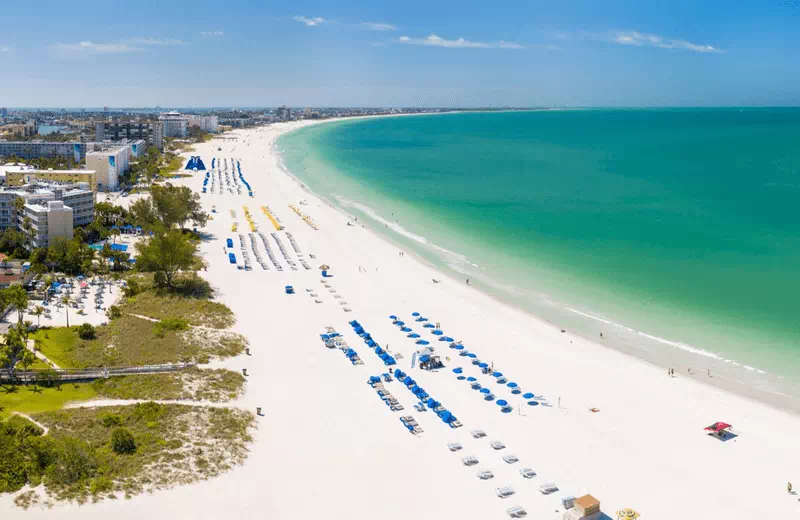 The downtown area of St. Pete Beach is centred on Corey Avenue. This neighbourhood is home to bars, restaurants, and shopping and retail establishments. The historic Don CeSar beach resort is located at the beach's southern end.
St. Pete Beach is a popular seaside vacation spot. Kiteboarding, windsurfing, parasailing, and stand-up paddleboarding are popular water sports on St. Pete Beach. This location also has the longest undeveloped public beach in the St. Pete/Clearwater area.
The beach's soft white sand is ideal for sunbathing, beachcombing, and building sandcastles, and the clear, shallow water will entice even inexperienced swimmers to take a dip.
St. Pete Beach has been named the best beach in the country, according to Tripadvisor's annual Travelers' Choice rankings, up from second place in 2020. It outperforms beaches in Hawaii, California, and even other Pinellas County beaches.
What is St. Pete Beach known for?
At the beach, visitors can also partake in a variety of water sports such as parasailing, stand-up paddle boarding, windsurfing, and kite boarding. There are several small restaurants and bars right on the beach, as well as metered parking.
Is it possible to swim at St. Pete Beach?
Yes, you can swim at beaches all year!
Is the water in St. Pete Beach clear?
Pete Beach was named the best beach in America because of its "white quartz sand and clear calm water."
Is St. Pete Beach congested?
St Pete Beach is Florida's best beach. It is never crowded, has beautiful sunsets, and is a fantastic destination for both locals and tourists.
How To Reach Saint Pete Beach
Tampa International Airport (TPA) is about 45 minutes from the award-winning beaches of St. Pete/Clearwater area, as well as six miles west of downtown Tampa. Tampa International Airport (TPA) is consistently ranked as one of the most popular airports in the United States.
Best Time to Visit Saint Pete Beach
The best time to visit St. Petersburg is from March to May, when the weather is pleasant and a variety of outdoor events bring the city to life. Room rates are lower from June to November, but hurricanes are a constant threat.
March is the busiest month for tourism in St Pete Beach, FL, USA.
Top Places to Visit Around St. Pete Beach
Pass-a-Grille Beach, Florida
Upham Beach
Merry Pier
Corey Avenue Sunday Market
Mastry's Brewing Co
Floating Water Park
Horan Park
Dolphin Village Shopping Center
McKenney Park
Coastal Kayak Charters