Activities to enjoy on Puri's beaches, such as sunbathing, surfing, and beach sports
Today we have to talk about Puri Beach, which is located in Odisha. This beach is on the banks of the Bay of Bengal. Puri Beach is known for being a tourist attraction and Hindu holy place This beach is believed to be the site of the annual Puri Beach Festival, sponsored by the Indian Tourism Ministry, Odisha City, Craft Development Commissioner and Eastern Zonal Cultural Center.
The captivating coastline and translucent waters of Puri's beaches are a treat to the eyes and provide a plethora of activities to cater to all ages and interests. From basking in the sun to surfing, the beaches in Puri offer diverse options. Don't wait any longer; plan your trip today to witness the splendor of Puri's stunning beaches. Let's get a little more information about this beaches of puri.
Beaches of Puri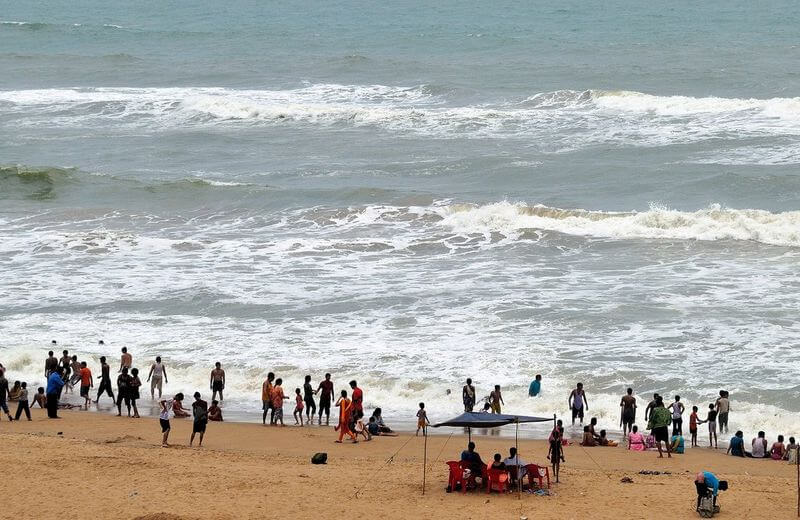 Puri Beach organizes art exhibitions, including works by international award-winning local sand artist Sudarsan Pattnaik. The distance between Puri railway station and this beach is just 2 kilometers. The nearest airport is at Bhubaneswar, which is 60 km away from this beach. Located on the odd beaches of Odisha, this beach is one of the wonderful places for the holidays where the sun-kissed beaches wet your feet and gentle breeze gives you the earth's smell to the clouds Enhanced.
The best place for this beach tourism is considered. On the Puri Beach you feel that you are in the dream world. Beaches lovers enjoy holidays on this beach, because Puri Beach offers the opportunity to pass through its wild sea waves and enjoy the sporting activities of the water. This beach is a romantic place to watch the sunrise and sunset. The golden sandy and lightning atmosphere of breakers appearing from the Bay of Bengal is a miraculous tour of the whole year and synonymous with Puri Beach.
Puri Beach has become an ideal place to spend some lovely moments with your family or friends. This beach is surrounded by holy temples which attract tourists around the world, which come here to find the scenic beauty of Puri Beach. This beach is always a favorite place for honeymoon couples. Puri Beach strikes its visitors with festive colors with excellent art and crafts and cultural dancing programs.
This beach is an excellent place for underwater sports activities such as angling, boat ride, swimming, sunbathing, surfing and sea is cruising. To make the sightseeing on the Puri Beach, you can ride on the boat and go for a boat riding on the ocean. It is the attraction of the pilgrims on the Nilgiri Hills of this beach and is one of the most famous places.
Puri Beach is a popular shopping Destination where you can find shells, oyster, handicraft items and other decorative items at cheap rates. Puri Beach is becoming a holy place for many pilgrims to pay homage to Lord Jagannath. With the annual beach festival held in November, Puri Beach is now a favorite for both Indian and foreign beach enthusiasts.
The beaches of this beach are well-known for sand sculptures created by international famous Sudarshan Patnaik. The vast number of Puri Beach and the number of hilarious lovers in Odisha Because of the entire beach area may be quite yours; this city is a popular destination for Indians. This beach offers a unique opportunity to watch sunrises and sunsets.
The beaches in Puri present an array of exciting activities for tourists to indulge in. If your idea of a perfect beach day involves lounging under the sun, there are ample places to spread your towel and unwind. For the more adventurous beach-goers, there are popular spots for surfing on certain beaches.
Additionally, you can participate in beach sports such as volleyball or frisbee to add some thrill to your day. Moreover, swimming and frolicking in the waves are classic beach activities that never get old. Regardless of your preferences, Puri's beaches cater to all interests, ensuring a memorable experience for everyone.
Read More on Puri Beach
1. Things To Do at Puri Beach
Today we are going to go to Puri Beach and collect information about how a tourist does activity. So let's talk a little bit about Things to Do at Puri Beach.
This place is known for being a tourist attraction and a Hindu holy place. Tourists can organize sand art displays on Puri beach. Tourists can do many craft activities on this beach. Puri Beach is one of the best beaches for tourists to visit. Puri Beach is a great place for water sports activities like angling, boat ride, swimming, surfing and sea cruising.
2. Best Time To Visit Puri Beach
Here we have to collect information about Best Time to Visit Puri Beach. This is to collect information on where the visitor can visit Puri beach. So let us know a little more about Puri Beach.
The Best Time For A Tourist To Visit Puri Beach Is From Late

November to February.
Winter Season
This is the best time for a tourist to visit Puri Beach this season. The weather stays cool and pleasant. During the winter season, tourists are encouraged to visit the sights around the beach and other outdoor activities. The days are usually warm and the nights are a little cooler this season on Puri Beach. The Puri Beach Festival is one of the highlights of this beach which takes place in November.
Summer Season
The summer season on this beach is marked by extreme heat and humidity. Summer is not an ideal time for sightseeing and other outdoor activities on this beach. Puri Beach has a large influx of pilgrims during this season.
Monsoon Season
The monsoon on Puri beach is accompanied by heavy downpours and thunderstorms. The day is nice on this beach during this season when the night can turn chilly. Even the locals do not come home during the monsoon period on Puri beach.
3. How To Reach Puri Beach
Here we are going to talk about How to Reach Puri Beach. So let's gather information about how a tourist can visit Puri Beach.
By Air
The nearest airport to Puri Beach is at Bhubaneswar which is very close to this beach. The airport is well connected to all major cities like India, Delhi, Hyderabad, Kolkata, etc.
By Train
The beach is the culmination of the East Coast Railway, which is directly connected by express and superfast trains to Mumbai, Delhi, Kolkata and other major cities in India. The railway station is located at a distance of 44 km from the beach. Khurda Road Station is the most convenient train head for West India and Chennai.
By Road
Puri Beach is very convenient for tourists to reach by bus and car as Puri Beach is well connected with all the major parts of India. The bus stand near Gundicha temple near this beach is connected to Bhubaneswar and Cuttack.
4. Top Places to Visit Around Puri Beach
Jagannath Temple
Chilika Wildlife Sanctuary
Atharnala Bridge
Gundicha Ghar Temple
Swargadwar Beach
Markandeshwara Temple