Cha-Am Beach, Phetchaburi (Thailand)
Today we have to talk about a beach named Cha-Am. This beach is located in Phetchaburi, Thailand. This beach is famous for being the best beach in Phetchaburi. The glory of this beach was established when it became a royal resort of neighbors Hua Hin and the royal family members commented that Cha-Am Beach was absolutely beautiful. As a result, this beach has become, favorite with visitors from weekend to Bangkok. Let's get more information about Cha-Am Beach.
Cha-Am Beach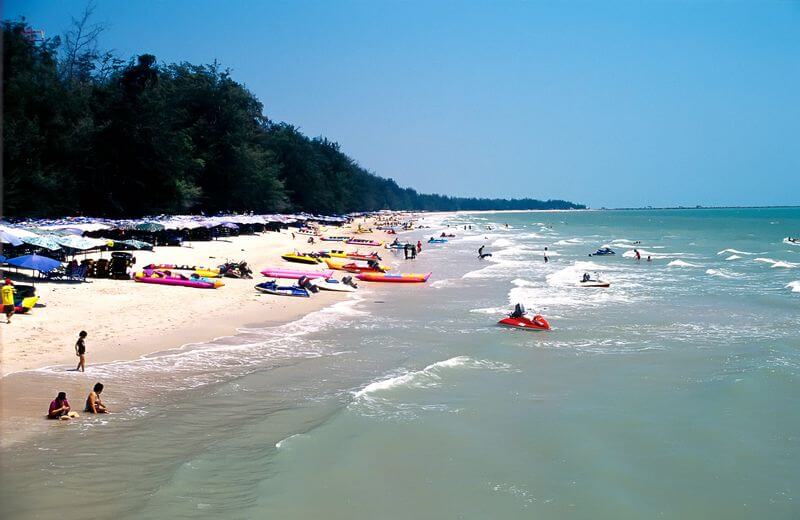 Tour at Cha-Am Beach is easy to choose from a place to relax in the deckchair under the Umbrella. Tourists can get a donkey ride if the tourists want one. And it is possible to hire a bicycle to explore the area. Many activities are also interesting for tourists on Cha-Am Beach, such as water activities, horseback riding, mangrove forests and biking Etc.
This is a quiet beach retreat where a large rectangle of silver sand, which is very quiet near Hua Hin. This beach is popular with romantic retreat, senior people seeking families with peace, and in search of families with young children, who are in search of an area that is safe and free from the challenges of Cha-Am beach sellers. Cha-Am Beach is still a number of visitors Beach activities offer, such as jet skiing and banana boat rides, and seafood is easily available and cheap as any beach city in Thailand.
Cha-Am Beach has many beautiful seafood restaurants. The intersection of this beach is a concentration of European tourists for business professionals. Cha-am Beach is known as one-week gateway from the people of Bangkok's hustle and bustle. This beach is known as a very beautiful and quiet beach.
Best Time To Go : December - April
Nearest Airport : Hua Hin Airport , Distance : 20.0 Km