1000 Steps Beach in Laguna Beach
1000 Steps Beach is one of Laguna's largest beaches and is known for the long, steep stairs that visitors must climb to get to the beach. The beach is only 230 steps away, and it is well worth the effort.
This beach is a classic Laguna shore break location, with summer waves crashing right on the sand. This makes it popular among both body surfers and skim boarders.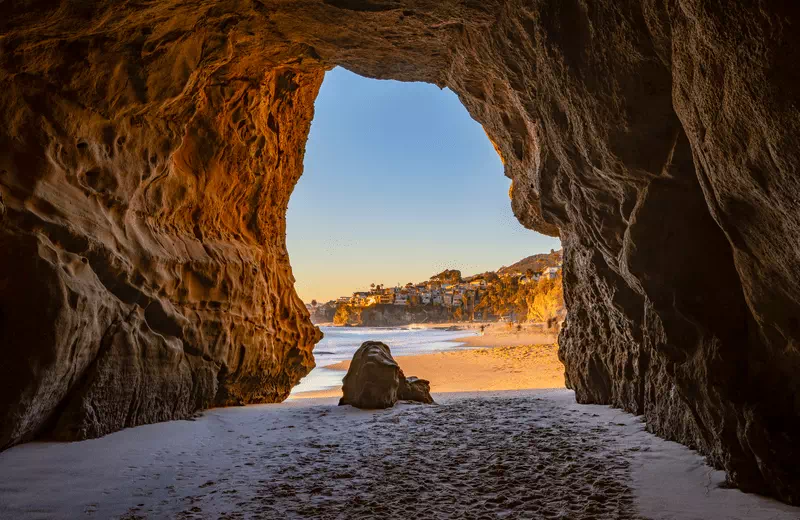 The beach is ideal for sunbathing, swimming, surfing, diving, skimboarding, and snorkeling, with volleyball courts and public restrooms nearby. When the tide is out, tourists can explore the enormous caves at the beach's north and south ends. Parking is limited, therefore visitors should take care to park legally to avoid getting a citation.
The most famous beaches are those in Newport, Santa Monica, and Huntington. Even so, many people are unfamiliar with the wonderful beaches in less-traveled locations like Laguna Beach. This is where the hidden gem of 1,000 Step Beach is located, and while locating it can be challenging, it is well worth the extra effort.
How long is 1000 Steps Beach?
1,000 Steps The beach is around 400 yards long and features immaculate sand, crashing waves, tide pools, and even a cave.
Is there a restroom at 1000 Steps Beach?
Yes, there are public restrooms.
How To Reach 1000 Steps Beach
To get to Thousand Steps Beach, go to the 9th Avenue and Coast Highway intersection and find a valid parking spot. The beach entry is located across from 9th Avenue and leads to a steep stairwell.
Best Time to Visit 1000 Steps Beach
Thousands Step Beach Pools used to be a hidden area; however, it's becoming increasingly popular, so it's best to arrive early or skip the high season in the summer, preferring the shoulder season in the spring and fall.
Top Places to Visit Around Laguna Beach
Heisler Park
Crystal Cove State Park
Crescent Bay Point Park
Main Beach
Aliso Beach Park
Treasure Island Beach
Victoria Beach
Top of the World
Table Rock Beach